Press Statement
India: Kashmir police interrogate journalists for publishing banned outfit's statement
11 Feb, 2020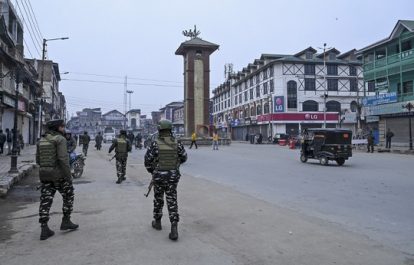 The Jammu and Kashmir Police (J&K police) called in two journalists for questioning for publication of a statement by a banned organisation. The International Federation of Journalists (IFJ) and its affiliate the Indian Journalists Union (IJU) are concerned by the repeated questioning and intimidation of the two journalists by police.  
Police summoned media workers, Naseer Ahmad Ganie, from Outlook Magazine, and Haroon Nabi, from the news agency CNS, for questioning on February 8 for allegedly publishing a statement of the banned Jammu Kashmir Liberation Front (JKLF) and sharing a post on WhatsApp. The statement from JKLF had called for a shutdown on Sunday and Tuesday – two key dates for the organisation marking the hangings of two former members. According to The Indian Express, Outlook Magazine published the statement with Nabi forwarding the story to a CNS WhatsApp group. The JKLF was banned in March 2019 under the anti-terror law for allegedly promoting separatist activities.
The IJU stated the journalists "were merely doing their work of reporting and demanded that the J&K police refrain from harassing and intimidating the media".
Since Article 370 was removed on August 5, ending the partial autonomy and statehood of Kashmir, the Kashmir Press Club (KPC) notes several journalists have been summoned and questioned by J&K police for simply reporting.
The KPC condemned the "harassment" by police, while KPC General Secretary, Ishfaq Tantry, said: "On and off, journalists have been summoned by the police for their stories." Senior journalists from KPC met with J&K's Inspector General Vijay Kumar on February 8 who denied the allegations of police harassment.
IJU said: "The Union demanded that the Kashmir administration respect media rights, the right to free speech and internet freedom. The administration must remember that journalists have the universally recognised right not to divulge their sources and that journalists across the globe are standing up to protect this right."
The IFJ said: "We condemn the arbitrary questioning and intimidation of Kashmiri journalists. We urge Kashmir authorities to respect the rights of journalists and refrain from acts that undermine press freedom.
Written By

IFJ Asia-Pacific
The IFJ represents more than 600,000 journalists in 140 countries.
For further information contact IFJ Asia-Pacific on +61 2 9333 0946
Find the IFJ on Twitter: @ifjasiapacific
Find the IFJ on Facebook: www.facebook.com/IFJAsiaPacific
Comments