Press Statement
India: Protesting migrant workers attack journalist
20 May, 2020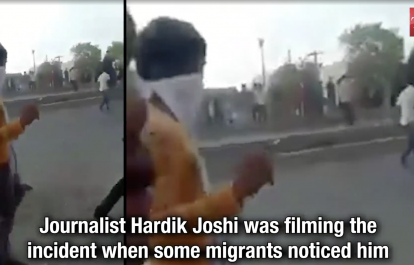 A group of protesting migrant workers attacked ABP Gujarati correspondent Hardik Joshi in Gujarat's Shapar area, injuring him critically. The International Federation of Journalist (IFJ) condemns the attack.
The migrant workers turned violent following the re-scheduling of the train to take them to their hometowns of Bihar and Uttar Pradesh. They attacked  the ABP News team on May 17 while the television crew were filming the migrant workers' protest.
When most crew members managed to escape the attack, the mob beat Joshi severely, striking his head and critically injuring him. The journalist was immediately taken to hospital where he received five stiches to his head. The protesting mob also allegedly broke his camera. They also pelted stones at policemen injuring superintendent of Rajkot rural police, Balram Meena and three other policemen.
According to police, 29 people have been arrested in connection with the violence under Indian Penal Code for rioting, voluntarily causing hurt and for attempt to commit culpable homicide.
IFJ said: "Attacking a journalist on duty is a complete violation of media rights. IFJ demands an immediate investigation and hopes that the perpetrators will be held to account."
Written By

IFJ Asia-Pacific
The IFJ represents more than 600,000 journalists in 140 countries.
For further information contact IFJ Asia-Pacific on +61 2 9333 0946
Find the IFJ on Twitter: @ifjasiapacific
Find the IFJ on Facebook: www.facebook.com/IFJAsiaPacific
Comments