Press Statement
India: Pulitzer Prize winning journalist Mattoo banned from travelling for prize ceremony
22 Oct, 2022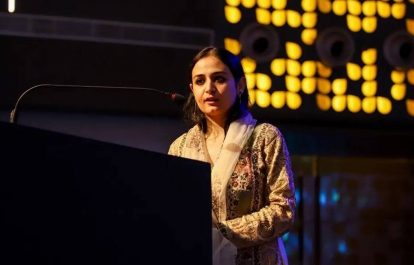 Sri-Nagar based journalist Sanna Irshad Mattoo, who along with other four members of Reuter team won the 2022 Pulitzer Prize, was barred from flying to the United States to receive the prize. The International Federation of Journalists (IFJ) condemns the unjustified travel ban and urges the Indian authorities to allow journalists to travel safely and freely.
Journalist Mattoo, who had a valid US visa and air ticket, was stopped by the immigration authorities at Delhi's Indira Gandhi International Airport on 18 October and prevented from travelling to attend the 'Pulitzer Prize award ceremony' scheduled to take place on 20 October. Following the immigration's action, journalist Mattoo reached out to many officials for assistance, but in vain.
Mattoo posted on Twitter a photograph of her ticket with an immigration officials stamp 'canceled without prejudice'. The authorities have not provided a reason for cancelation of her international travel.
The journalist is one of the four members of Reuters team getting the  Pulitzer Prize for 'Feature Photography' in 2022 for their coronavirus pandemic -coverage in India. Mattoo, 28 years, has extensively covered all the facets of Kashmir and plights of Kashmir populations in her photographs that  have been published in various national and international media outlets including Al Jazeera.
Pulitzer Prize administrator have announced that, that despite Mattoo's absence, she will be awarded her share of the prize.
The U.S. State Department said that  it noted the reports about Mattoo being barred from traveling to the US while Reuters issued a statement saying the organization was disappointed by Indian immigration officials' move to prevent Mattoo  from flying to the United States to receive her prize.
This is not the first time Mattoo was barred from travelling internationally. She was barred by immigration authorities at the Delhi airport from flying to France on 2 July. She was planning to fly to France to participate in a book launch and photography exhibition as one of the 10 award winners of the Serendipity Arles Grant 2020. She was not given any reason for the cancellation of her flight, either.
The IFJ considers this incident as an attack on the media and journalists from India administered Kashmir to silence their critical reporting and to stop international exposure of the situation. On 26 July, Aakash Hassan, another Kashmiri journalist who used to write for The Guardian newspaper, was prevented from travelling to Colombo, Sri Lanka. Similarly, another Kashmiri journalist Gowhar Geelani was stopped from flying to Germany in 2019.
The IFJ said: "Travel ban imposed on Sanna Irshad Mattoo is the latest example of the Indian government's harassment against Kashmir-based journalists through censorship of their reporting's content. The IFJ condemns the travel ban against photojournalist Mattoo and urges the Indian authorities to cease imposing restrictions on independent journalists and media workers."
Written By

IFJ Asia-Pacific
The IFJ represents more than 600,000 journalists in 140 countries.
For further information contact IFJ Asia-Pacific on +61 2 9333 0946
Find the IFJ on Twitter: @ifjasiapacific
Find the IFJ on Facebook: www.facebook.com/IFJAsiaPacific
Comments