Press Statement
India: Samajwadi Party cadres and security personnel attack journalists
16 Mar, 2021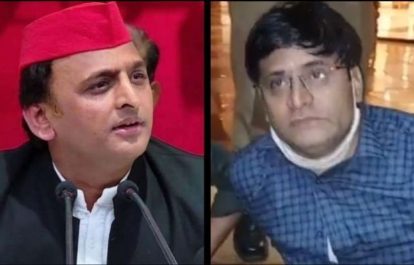 Several journalists were pushed, chased and assaulted by Samajwadi Party cadres and security personnel of Samajwadi Party leader, Akhilesh Yadav, at a hotel in Moradabad district in Uttar Pradesh (UP) on March 11. The International Federation of Journalists (IFJ) and its Indian affiliates the Indian Journalists Union (IJU) and the National Union of Journalists- India (NUJ-I) urge the UP government to investigate the case and punish those involved in the attack.
In a video shared to Twitter by Times of India reporter Piyuh Rai, Yadav can be heard aggressively telling journalists to 'get lost' following the incident. Yadav is also heard saying 'BJP ke liye kaam mat karo' (don't work for the BJP) The Bharatiya Janata Party (BJP) is one of the two major political parties in India.
The journalists were pushed and beaten up when asked 'additional questions' to Akhilesh Yadav following a press conference. Some journalists had  their mobile phones smashed and cameras broken in the ensuing scuffle.
Journalist Fareed Shamsi, of News 18, was seriously injured in the attack. He sustained a fracture to his leg and a severe blow to his nose from being hit with a rifle by one of the former minister's security guards. Police claim the chaos broke out when journalists came too close to security personnel.
Following the incident, a First Information Report (FIR) was registered at Pakhwara police station in Uttar Pradesh against the Samajwadi Party chief and 20 other party cadres on March 12. The FIR, lodged under various sections of Indian Penal Code (IPC), states Yadav encouraged security guards and party cadres to attack the journalists after becoming frustrated by personal questions. A counter-case was also filed against the journalists.
IJU president, Geetartha Pathak said: "IJU condemns the attacks, arrests, intimidations and harrassment of journalists in Uttar Pradesh from both ruling and opposition parties. IJU appeals to all incumbents to respect freedom of press and right to expression."
NUJ-I president, Ras Bihari, said: "NUJ-I condemns any attack on the media. We demand strict action to be taken against the culprits. The injured journalist should be given medical facilities as well."
 IFJ said: "The IFJ urges the UP government to ensure that impartial investigation on cases on attack on journalists is held and justice is delivered."
Written By

IFJ Asia-Pacific
The IFJ represents more than 600,000 journalists in 140 countries.
For further information contact IFJ Asia-Pacific on +61 2 9333 0946
Find the IFJ on Twitter: @ifjasiapacific
Find the IFJ on Facebook: www.facebook.com/IFJAsiaPacific
Comments