Press Statement
India: The Telegraph lays off 35 employees after Covid-19 pressures
25 May, 2020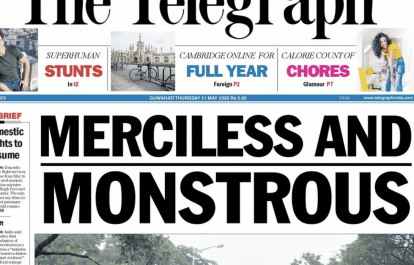 Kolkata-based English daily The Telegraph announced the shutdown of its Guwahati edition, asking staff to resign by May 31, citing the economic pressures of Covid-19. The International Federation of Journalists (IFJ) and its Indian affiliate,  the National Union of Journalists(India) express concern over the mass layoffs and urge management to reconsider the decision.  
The Telegraph editor, R Rajagopal told editorial and non-editorial staff of their redundancies over the phone on May 20 without a prior formal notice of their dismissal or closure of the Guwahati edition. As a result of this decision, 35 employees, including both journalists and non-journalists, will lose their jobs in the Guwahati bureau in Assam and the Jamshedpur and Ranchi bureaus in Jharkhand. 
The retrenched staff have said they were surprised by the dismissal and believe their future job prospects in the media are uncertain given the trend of industry-wide job losses. According to News Laundry, similar layoffs occurred when The Telegraph shut its Bhubaneswar and Patna bureaus in December 2018 and 2017 when the newspaper's parent company, the ABP group, laid off 300 employees.  
Since the start of the Covid-19 pandemic, the IFJ has recorded mass layoffs, pay cuts and forced leave without pay throughout India's media industry.
The NUJ-I said: "We urge central and state government to take immediate action on violation of labor law in the media institutions." 
 The IFJ said: "The mass retrenchment of media workers during the Covid-19 pandemic will cause irreparable damage to India's media industry. The IFJ urges media companies to hold off on any unnecessary actions and begin a consultation process to explore how the media can continue employing staff during the crisis."
Written By

IFJ Asia-Pacific
The IFJ represents more than 600,000 journalists in 140 countries.
For further information contact IFJ Asia-Pacific on +61 2 9333 0946
Find the IFJ on Twitter: @ifjasiapacific
Find the IFJ on Facebook: www.facebook.com/IFJAsiaPacific
Comments