Press Statement
India: Thousands protest against treatment of The Wire editor
16 Apr, 2020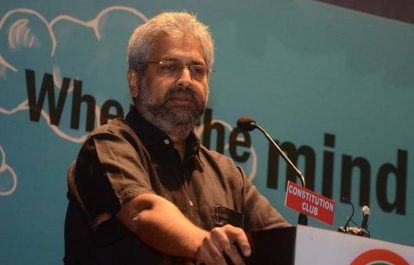 Around 3,500 jurists, academicians, actors, artists, writers have protested against the Uttar Pradesh (UP) government for filing criminal charges under a First Information Report (FIR) against The Wire editor Siddharth Varadarajan. The International Federation of Journalists (IFJ) and its affiliate the Indian Journalists Union (IJU) urge the UP government to scrap all criminal proceedings against the editor.
 In a joint statement, people from different walks of life including former Supreme Court judge Madan B Lokur, former Madras High Court judge K Chandru and former Patna High Court judge Anjana Prakash protested against the Uttar Pradesh Government's move on April 14. The FIR was filed against Siddharth Varadarajan for his alleged 'defamatory' comments against the UP chief minister Yogi Adityanath that appeared in The Wire.
The protests followed the serving of a notice on April 10 to the Wire's editor Siddharth Varadarajan, requesting he appear in Ayodhya Police station on April 14. In response to the police notice, Varadarajan tweeted on 13 April that could not appear at the Ayodhya police station, 700 km from his home in Delhi, due to the nation-wide Covid-19 lockdown.
The FIR, filed by Nitish Kumar Shrivastav, a resident of Faizabad in Uttar Pradesh, alleges Varadarajan had made an "objectionable" comment about Uttar Pradesh chief minister Yogi Adityanath.
On March 31, The Wire published an article entitled 'As COVID-19 Cases Spike in Nizamuddin, Nehru Stadium in Delhi to Become Quarantine Centre' where it wrongly quoted Yogi Adityanath as saying'Lord Ram would protect devotees from the coronavirus'. Later, The Wire  apologized saying the quote about Ram saving devotees from  the coronavirus was wrongly attributed to Yogi Adityanath.
IJU said: "Expressing solidarity with The Wire and its team, the IJU also urged Prime Minister Modi and Information & Broadcasting Minister Prakash Javadekar to step in and ensure that the UP government does not make a mockery of their gratitude towards the media for acting as a link between the government and the people during this difficult time".
IFJ  said: "The Uttar Pradesh administrations' legal charges against an editor come after he has apologized publicly and corrected the mistake. The charge is clearly an over- reaction and aimed at curbing the independent press in the current health crisis. IFJ urges the UP government to immediately drop all criminal proceedings".  
Written By

IFJ Asia-Pacific
The IFJ represents more than 600,000 journalists in 140 countries.
For further information contact IFJ Asia-Pacific on +61 2 9333 0946
Find the IFJ on Twitter: @ifjasiapacific
Find the IFJ on Facebook: www.facebook.com/IFJAsiaPacific
Comments