Press Statement
India: Three journalists arrested amid crackdown on press
23 Mar, 2023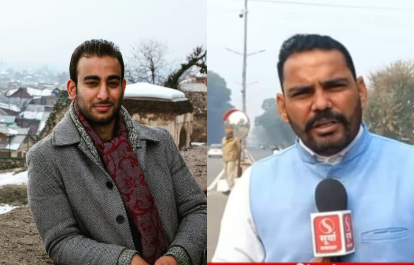 India's latest crackdown on the press has seen the arrests of a number of regional media workers, including Kashmiri journalist Irfan Mehraj in connection with a terrorism case and journalists Sanjay Rana and Jaspal Singh for their comments towards local Bharatiya Janata Party (BJP) politicians. The International Federation of Journalists (IFJ) and its affiliate, the Indian Journalists Union (IJU), condemn the use of harassment and intimidation to silence journalists in India and urge the state and national authorities to respect press freedom.
On March 20, 2023, Kashmiri journalist Irfan Mehraj was arrested by the Indian National Investigation Agency (NIA) for his alleged involvement in the financing of terrorist operations. According to reports, the journalist had been asked to appear at the NIA's office for a short five-minute questioning but was instead taken into detention and transferred to Delhi on March 21.
The freelance journalist was arrested as a part of the NIA's ongoing probe into Kashmir non-profit organisations, with the agency alleging that several organisations had sponsored terrorist or 'anti-national' activities. A case has been filed against Mehraj under sections of India's Unlawful Activities (Prevention) Act, 1967 relating to terrorism, fundraising, and inciting disaffection toward the government. According to the NIA, the case was submitted to probe the alleged flow of money from NGOs to terrorist organisations in the Kashmir valley.
In a separate incident, Fatehabad journalist Jaspal Singh was arrested on March 18, after the son of a Bharatiya Janata Party (BJP) politician, Sumit Kumar, filed a police complaint for alleged defamation. Kumar claimed that the journalist posted on several WhatsApp groups that his politician father had been involved in a gambling case lodged on March 16. Police detained Singh on various charges, including defamation, the Information Technology act, and anti-caste discrimination legislation. The arrest has been criticised by local media stakeholders.
The same week, journalist Sanjay Rana was also arrested in Uttar Pradesh after questioning Gulab Devi, the BJP state minister for secondary education, on unfulfilled campaign promises on March 12. A First Information Report (FIR) was launched by BJP youth leader Shubham Raghav, alleging the Moradabad Ujala journalist was 'unnecessarily doing drama' and a 'fake journalist', and that Rana had assaulted and threatened to kill him. According to reports, Raghav was not at the event.
The IJU said: "Using legal routes to silence and harass journalists has become a trend in BJP-ruled states. Journalists should be able to do their job of independently reporting and seeking accountability from politicians. The IJU express serious concern at the arrest of Jaspal Singh and condemn the arrest of Sanjay Rana as a blatant overreach of power."
The IFJ said: "The IFJ calls on the Indian authorities to immediately release the three detained journalists and drop all charges against them. The state and national governments must uphold their obligations to protect and promote press freedom and ensure that journalists can work without fear of reprisal."
Written By

IFJ Asia-Pacific
The IFJ represents more than 600,000 journalists in 140 countries.
For further information contact IFJ Asia-Pacific on +61 2 9333 0946
Find the IFJ on Twitter: @ifjasiapacific
Find the IFJ on Facebook: www.facebook.com/IFJAsiaPacific
Comments