Press Statement
India: Two journalists killed in 24 hours
27 Mar, 2018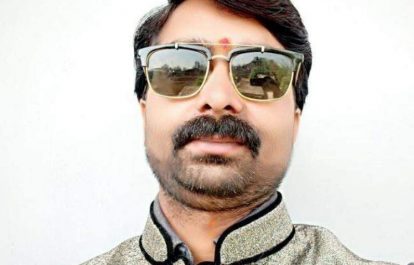 Sandeep Sharma and Naveen Nishchal were both killed in separate vehicle incidents in India on Monday, March 26. The International Federation of Journalists (IFJ) and its affiliate the National Union of Journalists (India) condemn the killings and demand immediate and transparent investigations.
Sandeep Sharma, a 35-year-old investigative journalist in Madhya Pradesh state in central India was crushed by a truck on a road in Bhind district and died at the local hospital. Sharma had recently two "sting" investigations about sand mafia for a regional TV station, News World, and alleged the involvement of police officials in the illegal sand-mining mafia operations in the state.
Sharma had reportedly sought police protection following the publication of the reports, but Shailendra Singh Khushwaha, the deputy inspector at the Bhind police station confirmed that the protection hadn't been provided. The driver of the truck was arrested and the truck was seized by police, as the investigation continued. In CCTV footage of the incident, the truck can be seen making a sudden swerve and crushing Sharma on a motorbike.
In a separate incident in Bihar state in eastern India, 35-year-old journalist Naveen Nishchal from Dainik Bhaskar daily and his friend Vijay Singh were killed. The pair were riding a motorbike when they were hit by a car driven by a former village head, who has several criminal cases against him. Locals set the vehicle on fire after the incident.
In a statement NUJ(I) President Prajanananda Chaudhuri said that security of journalists in entire country and particularly in Bihar and Madya Pradesh is a matter of concern. He said: "Brutal killing of journalists in Bihar and Madhya Pradesh clearly shows the state of affairs in those states. It is an attempt to stall fearless coverage of anti-national and anti-people activities. NUJ(I) strongly criticize this barbaric act and demand the State governments to nab the culprits at the earliest. We also demand to look into the security of the media persons, while covering different events in the country."
These are the first two cases of killing of journalists in India in 2018. India was ranked among the most dangerous countries in the world for journalists with 11 journalists and media staffs killed in the past two years, according to IFJ records.
IFJ general secretary, Anthony Bellanger said: "The brutal killings of Sandeep Sharma and Naveen Nichshal mere hours apart tell us that the Indian Government has put in no effort to curb the culture of violence and impunity that is rife across the country and having devastating impacts on the media. Over the past two years, the IFJ has noted a dramatic spike in the number of violations against the media, most evident with the killings of 11 journalists and media workers. Immediate and drastic action needs to be taken by the state and national governments to guarantee the safety and security of the country's journalists, and this starts with thorough and transparent investigations into these two killings. We stand in solidarity with the media in India is demanding action."
Photo: Sandeep Sharma who was killed in Madhya Pradesh, India. He was one of two journalists killed on Monday, March 26, 2018. Credit: Indian Express
Written By

IFJ Asia-Pacific
The IFJ represents more than 600,000 journalists in 140 countries.
For further information contact IFJ Asia-Pacific on +61 2 9333 0946
Find the IFJ on Twitter: @ifjasiapacific
Find the IFJ on Facebook: www.facebook.com/IFJAsiaPacific
Comments