Press Statement
Indian journalist dies in suspicious circumstances
09 May, 2016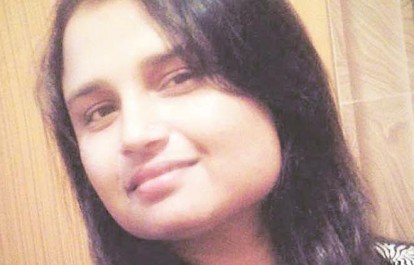 The International Federation of Journalists (IFJ) joins its affiliate the National Union of Journalists – India (NUJI) in demanding investigations into the death of a journalist in suspicious circumstances in Faridabad, Harayana. The IFJ calls on the government to ensure a transparent investigation into the circumstances surrounding the journalist's death.
Pooja Tiwari, 28-year-old journalist working for DNA's local online news portal, died after falling from fifth floor of her apartment on May 1. Originally from Madhya Pradesh, Tiwari lived alone in the apartment, however on the day of her death; her partner Harayana Police Inspector Amit Kumar and her friend Amreen Khan were with her in the apartment. Initially the death was ruled as a suicide; however, several media reports raised suspicions about the incident, forcing police to investigate the case. Kumar has since been arrested and on Saturday, May 7, was placed on suspension from the police force.
Tiwari had conducted a sting operation against some doctors and filed a story for her website alleging that they were involved in abortions. After the publication of the story, the doctors filed a First Information Record (FIR) alleging that Tiwari was blackmailing them. She was suspended from her job as 'standard operating process for the company'.
The NUJI has demanded the investigation by the Central Bureau of Investigation (CBI) claiming that Harayana state police has been lenient in its probe. NUJI President Ras Bihari in a letter to Harayana's Chief Minister Manohar Lal said: "Since a senior policeman is involved and police investigation has been questionable, we want a CBI team to investigate the case in prompt and neutral manner."
The Delhi Union of Journalists (DUJ), affiliated with the Indian Journalists Union (IJU), said the distressing episode illustrates the extreme vulnerability of journalists, who are often left to fend for themselves when cases, rightly or wrongly, are lodged against them for their professional work. The DUJ has strongly criticized the media house of suspending her and leaving her alone to battle out the case for the story she did for the media.
The IFJ general secretary, Anthony Bellanger said: "The IFJ is shocked by the death of journalist Pooja Tiwari in the suspicious circumstances. This case highlights the pressure that many journalists and media workers face in undertaking their work. We call on employers and unions to do more to support the media community. The IFJ urge the Indian government to ensure fair and quick investigation into the case to ensure justice for the journalist."
The IFJ express condolences to Pooja Tiwari's family, friends and colleagues.
Written By

IFJ Asia-Pacific
The IFJ represents more than 600,000 journalists in 140 countries.
For further information contact IFJ Asia-Pacific on +61 2 9333 0946
Find the IFJ on Twitter: @ifjasiapacific
Find the IFJ on Facebook: www.facebook.com/IFJAsiaPacific
Comments