Press Statement
Indian journalist subjected of harsh online harassment
30 Apr, 2018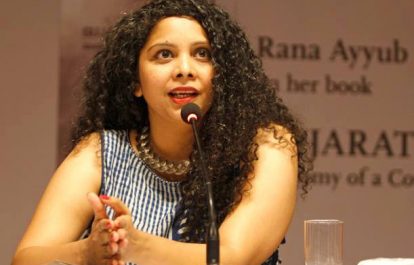 Investigative journalist Rana Ayyub has been subjected of relentless doxing, online abuse and violent threats including death threats in India.
The International Federation of Journalists (IFJ) condemns the targeted online harassment of the journalist and demands swift and urgent action from the authorities to protect her from further harassment.
Ayyub was projected as a defender of child rapists in a tweet posted on a fake account with name of the prominent TV channel on April 22. Following the tweet, Ayyub, the author of Gujarat Files: Anatomy of a Cover Up, a book about the 2002 Gujarat riots, that implicates BJP top leaders for the riots, received numerous hate-filled, sexually explicit and threatening messages on her Facebook and Twitter. It was followed by a fake video with morphed images that became viral and triggered more threats of gang-rape.
Ayyub has filed a criminal complaint at the Saket Police station in New Delhi on April 26.
She said: "I couldn't sleep for three nights. I couldn't talk, I couldn't believe what was happening. I was numb. My parents called me to see if I was OK. The trolls posted my phone number, the address of my house online. If this is the depth of their hatred, what will stop them from coming into my house as a mob and kill me?"
The journalist further said: "I've been trolled before, but I have never faced anything like this. I don't know what else I have to fear after this… I'm repeatedly telling the state that I'm under attack and I fear for my safety. Will they take action only after something happen?"
Ayyub had previously faced online harassment and trolling, especially from the supporters of Prime Minister Narendra Modi and his Bharatiya Janata Party (BJP). Earlier on June 19, 2017, BJP spokesperson Nupur Sharma filed a police complaint against her over a tweet about BJP presidential candidate that Sharma claimed to be 'defamatory, hate-filled and derogatory'.
Concerned by the increased online harassment and trolling on female journalists, the IFJ in 2017 initiated the Byteback Campaign to fight against cyber bullying calling for strong action to stop cyber-bullying and online harassment of women journalists.
The IFJ said: "The IFJ is seriously concerned by the online harassment and trolling of investigative journalist Rana Ayyub in India. The incident where fake accounts were used against her shows the level of threats that female journalists face online and the lack of mechanisms to stop such harassment. The IFJ demands immediate action from the authorities to protect her from further harassment, threats and potential attack. The IFJ also urges the social media companies to set in motion concrete measures and mechanisms to ensure such acts are not tolerated."
Written By

IFJ Asia-Pacific
The IFJ represents more than 600,000 journalists in 140 countries.
For further information contact IFJ Asia-Pacific on +61 2 9333 0946
Find the IFJ on Twitter: @ifjasiapacific
Find the IFJ on Facebook: www.facebook.com/IFJAsiaPacific
Comments