Press Statement
Jailed Pakistani journalist freed in Afghanistan
29 Sep, 2014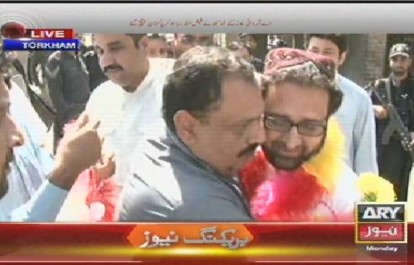 The International Federation of Journalists (IFJ) joins its affiliate the Pakistan Federal Union of Journalists (PFUJ) in welcoming a decision by the Nangarhar High Court in eastern Afghanistan this week to release a Pakistani television journalist imprisoned in the country since April 22, 2014. The IFJ has also commended Afghanistan's court and leaders for their support in this significant case and has welcomed it as a victory for journalist solidarity in South Asia.
Faizullah Khan, a reporter of ARY News TV channel, was freed on Sunday, September 28 and handed over to the Pakistani diplomat in Jalalabad city. He is expected to return to Pakistan today via the Torkham border where he is to be received by office bearers of the PFUJ. Faizullah was reportedly freed on the orders from the Nangarhar High Court after outgoing Afghan President Hamid Karzai ordered his release.
Khan was reported missing on April 22 after he told his supervisor he would be going to Afghanistan to interview senior Taliban officials near the Afghan/Pakistan border. He was arrested on April 30 by Afghan security forces on charges of espionage and immigration violation, allegedly because he was unable to provide the required immigration documentation. The espionage charges were later dropped but on July 12 a court found him guilty of the offence of 'entering without travel documents and communicating with militant sources' and handed down a four-year jail sentence.
The PFUJ and the journalism community in Pakistan have made continuous efforts to seek his release through presidential pardon and diplomatic channels. Also in a rare sign of solidarity with the South Asia's media, Pakistan's minister for information, Pervez Rashid, in July urged Afghanistan's leader to issue a presidential pardon. "I appeal to Afghan President Hamid Karzai to use his powers," to pardon Khan, he said at the time.
The IFJ and PFUJ have lauded the release of Khan and termed it a victory of the journalist's fraternity in Pakistan. The PFUJ thanks all those who supported efforts to secure Faizullah's release.
The IFJ Asia Pacific acting director Jane Worthington said: "The IFJ welcomes the decision by the Afghanistan Government and the Nangarhar High Court to release Faizullah Khan. This is a great victory for media solidarity and we especially applaud the work of the PFUJ in assisting with the facilitation of his release and thank the Afghanistan government for acting on calls from journalist communities, including the IFJ, to release him."
"The dropping of the excessive jail sentence by Afghanistan and the decision to allow Faizullah Khan to return home to his family is an immense sign of goodwill and respect to the media in Pakistan but also more broadly toward the South Asian media community. This is an important outcome for media freedom in the region."
Written By

IFJ Asia-Pacific
The IFJ represents more than 600,000 journalists in 140 countries.
For further information contact IFJ Asia-Pacific on +61 2 9333 0946
Find the IFJ on Twitter: @ifjasiapacific
Find the IFJ on Facebook: www.facebook.com/IFJAsiaPacific
Comments