Press Statement
#JournosAgainstShutdowns: IFJ, SAMSN launch campaign against internet shutdowns
29 May, 2017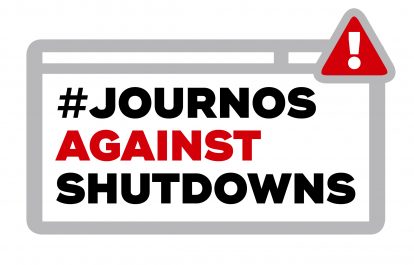 The International Federation of Journalists (IFJ) and the South Asia Media Solidarity Network (SAMSN) today launched a South Asia-wide campaign against internet shutdowns terming them 'an act against the freedom of expression and press freedom'.

The #JournosAgainstShutdowns campaign is launching at a time of increasing shut downs of the internet in the region, especially in India, Pakistan and Bangladesh.
India is right now experiencing two significant shutdowns. Mobile Internet services in Saharanpur, Uttar Pradesh were suspended on April 24 amidst violent clashes between two communities; and in Kashmir for the fourth time in 2017 on May 27, immediately after expiration of a month-long restriction on 22 social media and instant messaging sites and apps.
In 2016, South Asia experienced the highest number of internet shutdowns globally with India having the dubious record of being the leading country in internet shutdowns.
"South Asian nations are shutting down the internet at various levels on grounds of security or for other reasons, often without clear legal mandate or using outdated laws. Internet shutdowns not only affect a country economically and deny citizens their fundamental rights but are also against freedom of expression and press freedom," the IFJ Asia Pacific said. "The internet is a vital tool for media and journalists, and its access should remain uninterrupted."
The first casualty of internet shutdown is the freedom of expression. Journalists and media are hampered in many ways, most critically in their role of promoting democracy and freedom of expression.   Journalists face difficulties in newsgathering, producing and filing stories.
Internet shutdowns are a form of censorship that also prevents journalists from freely reporting, and citizens from sharing information.
The IFJ/SAMSN #JournosAgainstShutdowns Campaign aims to raise awareness among media workers on the impact of internet shutdowns as a freedom of expression and press freedom issue; encourage journalists and their unions and professional organizations to advocate against and monitor shutdowns; strengthen regional collaboration and join international efforts and coalitions in advocacy against internet shutdowns.
Internet shutdowns have been identified as a major issue by SAMSN in 2016 and the IFJ in its reports, New Fronts, Brave Voices: Press Freedom in South Asia 2016-2017 and Breaking the Walls: The fight for freedom of expression in the digital space in South Asia.
"South Asia is at the critical juncture when it comes to freedom of expression online," the IFJ said. "While there is a massive increase in numbers of users and access to internet, this has been countered with increasing curbs on the freedom of expression in the digital space. There is an urgent need for journalists, their unions and media rights organizations in the region to join the growing advocacy against internet shutdowns in accordance with their mandate to defend the rights of the journalists and freedom of expression in South Asia."

Join the IFJ / SAMSN #JournosAgainstShutdowns Campaign by using the hashtag.
Follow the campaign here and you can find campaign graphics to share on social media in most of South Asian languages here.
Comments