Bangladesh
Journalism: A tragic adventure?
04 Jan, 2017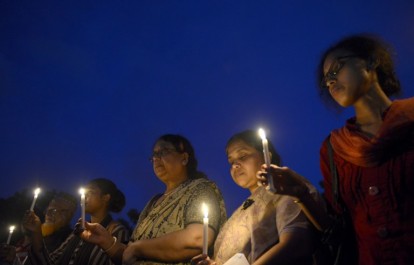 In Bangladesh, speaking the truth to power attracts jail sentences, not Pulitzer prizes, says Sam Jahan.
Most people I meet in Bangladesh try their best to absorb the fact of my working as a full-time journalist in the country. "But why?" they ask. I have asked this question to myself repeatedly, and have come up with two possible reasons for their bewilderment at my career choice: in the first place, they think people who can't be anything 'meaningful' in life turn themselves into journalists, secondly, they are believed to be an audacious lot to be able face the unbelievable challenges of this profession.
Everyone who regularly follows current affairs would know the state of freedom of press in Bangladesh. Journalists in this country face irrational hurdles, indeed on a regular basis. South Asian countries in recent years have seen several arrests and continuous lawsuits filed against editors and reporters on different charges. Well, those are old stories. I'm writing this piece today to talk about a fresh case study.
Nazmul Huda is a local correspondent of the private Ekushey Television at an industrial town called Savar which houses hundreds of factories earning billions of dollars every year.
The tale of Savar sounds optimistic, I know. But here also lies the remnants of Rana Plaza, the 2013 nightmare where more than 1,130 people died and thousands were injured during a horrendous building collapse.
Huda was the first one to break the story of the Plaza's shoddy structure, only a day before the tragic day. He also filmed how the building owner – a political leader – forced thousands of factory workers to enter the building to work on their shifts despite the developing cracks on pillars of the nine-storey building.
"Had he been born in the US, he would have been awarded a Pulitzer for public service," a senior Bangladeshi journalist said on social media.
The authorities didn't pay heed to Huda's report which could have saved thousands of lives. The very next day, on April 24, 2013, the huge edifice turned into a pile of debris with thousands of people trapped inside, marking it as one of the biggest industrial disasters of history.
However, Huda didn't receive any award. All he could probably have said was: "I told you so!" His video footage was used in the court as evidence against the factory owner Sohel Rana, who was later arrested. Huda, since then, allegedly kept receiving death threats. But he survived. Till last week.
Thousands of factory workers in Savar recently came on the streets demanding a pay hike. Police arrested a few of their leaders. Owners shut down factories. The 30-billion dollar readymade garment industry faced global criticism.
And all of a sudden, news broke that Huda was arrested. "Why?"
Because he was accused of "inciting illegal protests, holding secret meetings with seven labour leaders whom we (police) have arrested, and trying to destabilise the government," an AFP report quoted the local district police chief as saying.
The reporter was arrested under the wicked and controversial internet law of the country which barely answers the "WHYs" of any arrest.
I may not know, but I'm sure my fellow journalist across the world might answer —since when are 'secret' meetings barred for journalists? Since when can't we meet a source in private and not let the police know about it? And can law enforcers in a democratic country simply throw someone in jail because they "think" the person did something wrong, without a fair probe?
I have not met Huda personally. I do not know how long he is going to stay in jail. I only know that nobody would probably utter a word. Even I was told not to write this article for the IFJ. What does that say about freedom of expression?
Now I understand why my acquaintances take time to grasp the fact that I am a journalist in Bangladesh.
Written By
Comments