Press Statement
Journalism student lynched in Pakistan for alleged blasphemy
19 Apr, 2017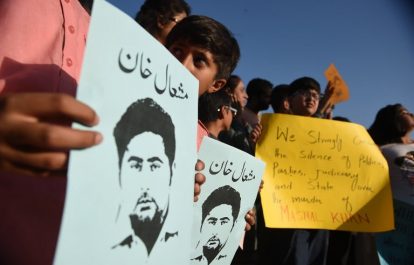 The International Federation of Journalists (IFJ) condemns the gruesome killing of journalism student Mashal Khan in Khyber-Pakhtunkhwa, Pakistan on April 13, 2017. The IFJ demands immediate investigation into the incident, and prosecution of the perpetrators to ensure justice.
Khan, 23, was lynched by a violent mob in his hostel at Wali Khan University in Mardan of Khyber-Pakhtunkhwa province, allegedly for uploading blasphemous content on social networking site Facebook. The police however have found no evidence of the alleged blasphemous content. Graphic video footage of the lynching showed Khan lying on the floor and his body which bore multiple marks of severe torture was not moving. The mob was seen kicking his lifeless body and beating it with wooden planks. He was then thrown from the second floor of the university building.
Pakistan's Prime Minister Nawaz Sharif, the National Assembly, the Senate and the Provincial Assembly of Baluchistan have condemned the killing and police have arrested 22 people in connection with the lynching, while an investigation is ongoing..
Blasphemy is a sensitive issue in Pakistanand PM Sharif in March, 2017 issued an order recommending removal of blasphemous content online saying that anyone who posted such content should face strict punishment under the law. When condemning the murder, the Senate of Pakistan suggested amending the blasphemy law to improve it.
IFJ general secretary, Anthony Bellanger said: "The IFJ strongly condemns the killing of Mashal Khan, a journalism student at the Wali Khan University in Pakistan; and demands immediate investigation into the incident and prosecution to punish the culprits. The IFJ urges the Pakistan government to make necessary amendments into the laws to ensure that such incidents are not repeated in future by ensuring explicit definition of blasphemous contents, and punishment to culprits in cases where blasphemy is used as a pretext to commit horrible crimes. The IFJ also expresses concerns over the overall atmosphere in Pakistan where restrictions on legitimate speech online is on the rise"
Photo: Pakistani civil society members and university students shout slogans and wave placards as they protest against the killing of Mashal Khan a journalism student, in Islamabad on April 15, 2017. Credit: Farooq Naeem/AFP
Written By

IFJ Asia-Pacific
The IFJ represents more than 600,000 journalists in 140 countries.
For further information contact IFJ Asia-Pacific on +61 2 9333 0946
Find the IFJ on Twitter: @ifjasiapacific
Find the IFJ on Facebook: www.facebook.com/IFJAsiaPacific
Comments