Press Statement
Journalist arrested in India over Facebook video
04 Dec, 2018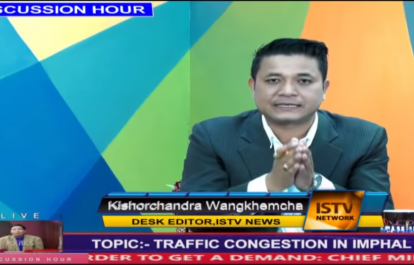 Television journalist Kishorchandra Wangkhem was arrested twice and detained for a total of 10 days for a Facebook video criticizing the ruling party, in Imphal, Manipur, India. The International Federation of Journalists (IFJ) joins its affiliate the Indian Journalists Union (IJU) in condemning the arrest; and demanding that all charges be dropped immediately.
Wangkhem, the former anchor and sub-editor at Information Service Television Network (ISTV), was arrested on November 20 after he posted a video criticising Chief Minister N Biren Singh and Prime Minister Narendra Modi on Facebook. The police charged him with sedition, inciting hatred and defamation. However, on November 26, the chief judicial magistrate of Imphal (West) district dismissed the charges of sedition and granted Wangkhem bail for the other charges. The magistrate observed: "In giving the speech, the accused person transgressed beyond decent human conduct but it cannot be termed seditious. The government, especially its functionary like prime minister cannot be so sensitive as to take offence upon expression of opinions by its citizen, which may be given very nicely by using proper words or indecently by using some vulgar terms."
He was arrested again within 24 hours under the draconian National Security Act (NSA) 'with a view to prevent him from acting in any matter prejudicial to the security of the state and to the maintenance of public order', according to the detention order signed by the district magistrate of Imphal (West).
The NSA allows the administration to detain people under the presumption that they could do something detrimental to national security and denies access to a lawyer or a hearing before a court.
The IJU said the detention violated the freedom of expression guaranteed under the Constitution and worse it was a blatant use of misuse of the NSA by the authorities. IJU President Amar Devulapalli said: "The detention of Wangkhem must be seen as an attack on the freedom of expression and most undemocratic. The detention was all the more objectionable after he was set free by the Chief Judicial Magistrate of Manipur (West) district a few days earlier quashing charge of sedition slapped on him."
The IFJ notes that Wangkhem was also arrested and charged with inciting public mischief through a series of Facebook posts, on August 9, 2018 for criticizing the state government.
The IFJ said: "It's a blatant violation that journalist Kishorechandra Wangkhem has been repeatedly arrested for his Facebook posts for expressing his opinions about the governments. The IFJ reminds the Indian authorities that the freedom of expression is also the right to dissent, and it's up to individual to choose how they express their opinion. Charging a journalist under the security act for the expression is a misuse of the law and clearly a violation of the freedom of expression. The IFJ urges the Indian authorities to drop all charges against him."
Written By

IFJ Asia-Pacific
The IFJ represents more than 600,000 journalists in 140 countries.
For further information contact IFJ Asia-Pacific on +61 2 9333 0946
Find the IFJ on Twitter: @ifjasiapacific
Find the IFJ on Facebook: www.facebook.com/IFJAsiaPacific
Comments