Press Statement
Journalist attacked by officials from India's ruling party
07 Feb, 2019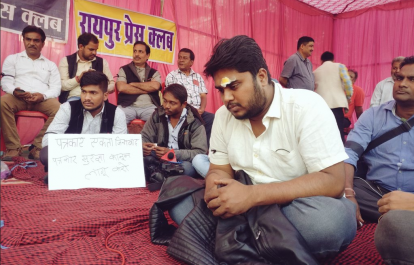 Suman Pandey and Vinod Dongre were attacked as they covered a meeting of officials from the ruling Bharatiya Janata Party (BJP) in Raipur, Chhattisgarh on February 2. The International Federation of Journalists (IFJ) and its affiliate the Indian Journalists Union (IJU) have strongly criticized the attack and demand an immediate investigation into the incident.
Pandey, a journalist with The Voices filmed a scuffle that broke out between BJP officials. He said that following, he was attacked and beaten by BJP officials, demanding that he delete the footage. Vinod was also injured in the attack.
Pandey, who sustained head injuries in the attack, filed a complaint to police. In the complaint, Pandey said that BJP Raipur president Rajiv Agarwal, Vijay Vyas and Dina Dongre were the officials who attacked him. Late on Saturday all four of the assailants were arrested under Sections 342 (wrongful confinement), 323 (voluntarily causing hurt), 504 (criminal intimidation) and 34 (common intention) of the Indian Penal Code, and released on bail.
Following the attack, local journalists staged a protest demanding an investigation and for safer working conditions for journalists in India.
IJU president Amar Devulapalli said: "The IJU firmly believes the attack is not just against the journalists but against the freedom of the press. The attempt of some BJP leaders to hush up the case by apologizing is not acceptable. We demand that the culprits should be arrested under non-bailable sections of the IPC and the BJP should remove the attackers from their posts to send a strong signal that attacks on journalists would not be tolerated."
The IFJ said: "Two journalists were attacked for simply doing their job. While we welcome the arrest and charges against the assailants, we urge the authorities to ensure proper punishment. We also call on BJP officials to take the necessary steps to educate all party members and officials on the rights of journalists, and encourage respect of the media, especially in the lead up to general elections later this year."
Written By

IFJ Asia-Pacific
The IFJ represents more than 600,000 journalists in 140 countries.
For further information contact IFJ Asia-Pacific on +61 2 9333 0946
Find the IFJ on Twitter: @ifjasiapacific
Find the IFJ on Facebook: www.facebook.com/IFJAsiaPacific
Comments