Press Statement
Journalist in east Nepal beaten over news
04 Jun, 2018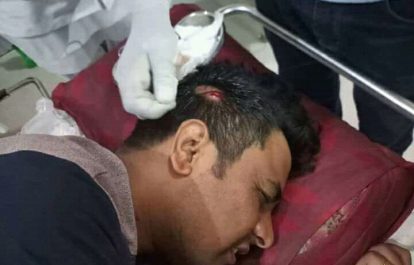 Journalist Dinesh Giri was attacked by three people over a news report on the evening of June 2 in Belbari, Morang in eastern Nepal.
The International Federation of Journalists (IFJ) and its affiliate the Nepal Press Union (NPU) condemn the attack and urge the authorities to immediately arrest and punish those involved in beating the journalist.
On June 2, Giri, the editor of nirantarkhabar.com and also the treasurer of NPU Morang branch, was called out of his residence by three persons – Bishal Thapa, Jagen Gurung and Chitra Khadka, who then proceeded to attack him. Giri sustained injuries on his head and back and had to be taken to hospital.
The police has arrested Thapa while the other two alleged attackers are absconding.
Ajaya Babu Shiwakoti, the NPU General Secretary, said: "The incident shows that journalists have to report issues of public interest risking their safety. The NPU condemns the attack on journalist Dinesh Giri and demands stringent punishment to the attackers. The NPU urges the authorities to ensure safe working environment for journalists and media."
The IFJ said: "The IFJ condemns the beating of editor Dinesh Giri in eastern Nepal, and urges the immediate arrest and punishment of the attackers. The IFJ also urges the Nepali authorities to create a favorable and safe environment for journalists and media in Nepal."
Photo: Dinesh Giri's injuries he sustained during the attack. Credit: NPU
Written By

IFJ Asia-Pacific
The IFJ represents more than 600,000 journalists in 140 countries.
For further information contact IFJ Asia-Pacific on +61 2 9333 0946
Find the IFJ on Twitter: @ifjasiapacific
Find the IFJ on Facebook: www.facebook.com/IFJAsiaPacific
Comments