Press Statement
Journalist jailed for a year under draconian law for posting Facebook video
24 Dec, 2018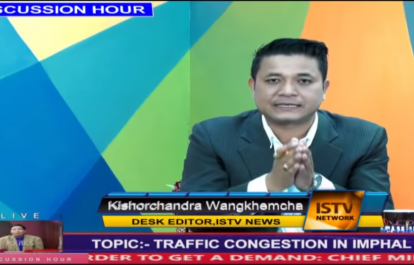 Journalist Kishorechandra Wangkhem was jailed for a year under the National Security Act (NSA) on December 13 for his Facebook video criticising the state and federal governments Imphal, Manipur state of India. The International Federation of Journalists (IFJ) joins its affiliates the Indian Journalists Union (IJU) in strongly condemning the imprisonment of journalist Wangkhem; and demand his immediate release.
Wangkhem, the former anchor and sub-editor at Information Service Television Network (ISTV), was taken into custody by the state police on November 20 for sedition, inciting hatred and defamation by posting objectionable and defamatory comments in social media against the ruling Bharatiya Janata Party (BJP), the Chief Minister of Manipur and the Prime Minister.. However, on November 26, the chief judicial magistrate of Imphal (West) district dismissed the charges of sedition and granted Wangkhem bail for the other charges.
He was arrested again within 24 hours under the draconian NSA and was sentenced to a 12-month jail term – the maximum period of detention allowed under the Act. An advisory board met on December 11 and conducted hearings on the matter and on December 13, it approved the journalist's detention.
The approval order reportedly said: "After considering the proximate past activities of the [detainee] and potential danger of his activities which are prejudicial to the security of the state and maintenance of public order and there is apprehension of his continuing to act in [similarly] prejudicial activities, the moment he is released from detention, is further of the opinion that the said person should be detained for the maximum period of 12 months as provided under Section 13 of the said Act."
The IJU President Amar Devulapalli said: "The decision of the Advisory Board under the NSA to incarcerate Kishorechandra Wangkhem for one year after a Chief Judicial Magistrate bailed him out in a case of sedition, smacked of vindictiveness and a direct attack on the freedom of expression guaranteed under the Constitution."
The IJU further added: "While the IJU does not support the use of objectionable and indecent language, it strongly feels that Government of Manipur should have pursued the case of defamation against him if it felt aggrieved by his comments. The use of draconian NSA to silence a contrary view, however offensive it may be, is fraught with dangerous consequences for the future of the freedom of expression and freedom of the press in the country and hence unacceptable."
The IFJ said: "The IFJ strongly condemn the 12-month detention of journalist Kishorechandra Wangkhem in Imphal, Manipur, India under a draconian law. The use of the law for posting a video is a clear indication that the law was misused to silence the journalist. Such acts are unacceptable thus the IFJ demands an immediate release of the journalist."
Comments