Attacks on Media
Journalist killed in explosion in Afghanistan
04 Nov, 2016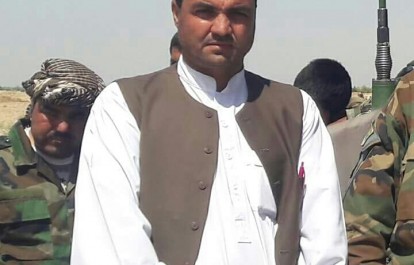 The International Federation of Journalists (IFJ) joins its affiliate the Afghan Independent Journalists Association (AIJA) in condemning the killing of a journalist in an explosion in Helmand province, in southern Afghanistan on Friday, November 4. The IFJ demands urgent action from the Afghanistan government to ensure the safety for the Afghan media community.
Journalist Nematullah Zahir, a local reporter for Kabul-based Ariana TV, was killed in a bomb blast on Friday afternoon. He was on a reporting trip with two other reporters near Lashkargah city when the incident occurred. AIJA Helmand president Zainullah Stanekzai and a reporter of Zwandon TV survived the explosion. It was not immediately clear whether the journalists were targeted or fell prey to an ambush.
Stanikzai reportedly said: "We were on our way to the 2nd police district where fighting was underway when the vehicle we were traveling in hit a roadside bomb. One reporter was killed another wounded and the blast left an impact on me as well."
Samandar Khan, AIJA president, said: "The AIJA leadership condemns the attack and calls on the local government to complete the investigations. This and all other killings of journalists show that the situation is worse for journalists in remote areas." The AIJA added that Afghanistan has lost more journalists in 2016 than any other year in the past 15 years.
According to IFJ records, Zahir is the 12th journalist killed this year in Afghanistan. Seven media workers were killed in a deadly bomb attack on a staff bus of Tolo TV in Kabul in January; a senior journalist was shot dead in Nangarhar province in February, two journalists working at the National Public Radio – an Afghan and an American – were killed in Helmand in June and a reporter for the state-run Radio Television Afghanistan (RTA) was shot dead in Zabul.
Anthony Bellanger, the IFJ general secretary said: "The IFJ is saddened by yet another killing of a journalist colleague in Afghanistan. The country is well known for its impunity records. We join the AIJA in condemning the killing of Nematullah Zahir and demanding immediate investigation in the case. We urge the Afghan government to institute urgent measures to protect journalists from attacks. We sadly note that the safety and security of journalists remain fragile in Afghanistan despite promises".
The IFJ and the AIJA express condolences to the family, friends and colleagues of Nematullah Zahir.
Written By

IFJ Asia-Pacific
The IFJ represents more than 600,000 journalists in 140 countries.
For further information contact IFJ Asia-Pacific on +61 2 9333 0946
Find the IFJ on Twitter: @ifjasiapacific
Find the IFJ on Facebook: www.facebook.com/IFJAsiaPacific
Comments