Press Statement
Journalist severely injured in Afghanistan suicide bombing dies
22 Dec, 2014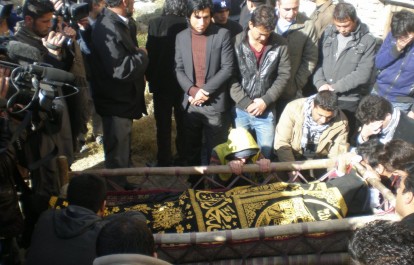 The International Federation of Journalists (IFJ) and the Afghanistan Independent Journalists Association (AIJA) are saddened by the news that a journalist who was severely injured in a suicide bombing two weeks ago in Kabul, Afghanistan has died.
Zubair Hatami, a journalist and cameraman for local Mitra TV in Kabul, died around midnight on Saturday, December 20 after 10 days in a coma. He was severely wounded after a teenage suicide bomber detonated his explosives during a theatre show at Estiqlal High School on December 11. One other, a German civilian, was also killed and nearly 20 others were injured in the attack.
Hatami's funeral was held on Sunday, December 21, attended by his colleagues, journalists and family members. Afghan President Ashraf Ghani and Chief Executive Office Abdullah Abdullah also extended their deepest sympathies on Hatami's death.
The IFJ and AIJA strongly condemn the brutal attack; and expresses condolences to the family of the deceased journalists.
IFJ Asia Pacific Acting Director, Jane Worthington, said: "This is tragic news, the region's journalistic community is deeply saddened by the death of journalist Hatami in the senseless attack."
The IFJ reports that the death toll of journalists in Afghanistan has reached eight for this year –  a significant spike on previous years with many journalists directly targeted before and after the country's presidential election."
The IFJ's killed list is due for release on December 31, shows that Afghanistan continues to be one of the most dangerous for the journalists in the world and is currently ranked second in the Asia-Pacific region.
"The IFJ welcomed the commitments made by the new Afghanistan government on impunity in November and we strongly urge further cooperation and communication with all areas of state and civil society to improve the deadly situation for journalists in Afghanistan."
For a full list of journalists killed in the Asia-Pacific region this year visit the IFJ Safety site.
Written By

IFJ Asia-Pacific
The IFJ represents more than 600,000 journalists in 140 countries.
For further information contact IFJ Asia-Pacific on +61 2 9333 0946
Find the IFJ on Twitter: @ifjasiapacific
Find the IFJ on Facebook: www.facebook.com/IFJAsiaPacific
Comments