Press Statement
Journalists among victims in Kabul bomb explosion
31 May, 2017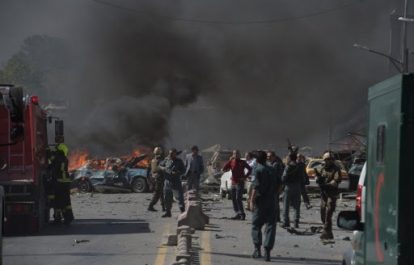 The International Federation of Journalists (IFJ) and its affiliate the Afghan Independent Journalists Association (AIJA) condemn the brutal attack in Kabul today, May 31, which saw at least two media staff killed and 11 other media staff injured. The IFJ and AIJA demand justice for the victims and a stepping up of security measures for media staff to safely carry out their duties.
TOLO TV's staff technician Aziz Navin and BBC Kabul's staff driver Mohammad Nazeer were killed when a powerful bomb was detonated inside a parked vehicle at the Zanbaq Square, near the diplomatic enclave in Kabul, the capital of Afghanistan on the morning of May 31. At least 80 people were killed and more than 400 were injured in the suicide attack.
Four BBC journalists were injured as their vehicle was hit by the explosion. Radio producer Tajudin Sarosh, reporters Hidayatullah Hamim, Ayub Arwen and Abdullah Nizami were taken to hospital for treatment and are reportedly out of danger. BBC World Service Director Francesca Unsworth in a message said: "Mohammad Nazeer worked as a driver for BBC for more than four years and was a popular colleague. He was in his thirties and he leaves behind a young family."
Three media staff were injured in nearby TV1 station. Three media staff of TOLO TV and a staff member of Radio Television Afghanistan (RTA) were also injured in the blast.
The AIJA leadership condemned the attack on media workers, media and civilians in strong words. Rahimullah Samandar, the AIJA President, said: "Increasing casualties of journalists and media workers in such terrorist attacks is a very concerning issue. Killing of journalists and civilians in such as attack is a crime against civilians."
Afghanistan is the most dangerous country in the Asia Pacific region with five journalists and media staff killed since January 1, 2017.
The IFJ said: "This is a terrible news and the IFJ condemns the attack expressing condolence to the families of the two killed media staff. The IFJ stands in solidarity with Afghan journalists and media staff at this difficult hour and wishes for speedy recovery of our injured colleagues. The Afghan government should ensure justice to the killed media staff and civilians and put in place measures for journalists' safety."
Written By

IFJ Asia-Pacific
The IFJ represents more than 600,000 journalists in 140 countries.
For further information contact IFJ Asia-Pacific on +61 2 9333 0946
Find the IFJ on Twitter: @ifjasiapacific
Find the IFJ on Facebook: www.facebook.com/IFJAsiaPacific
Comments