Press Statement
Journalists arrested for protesting TV network ban in Telangana, India
10 Sep, 2014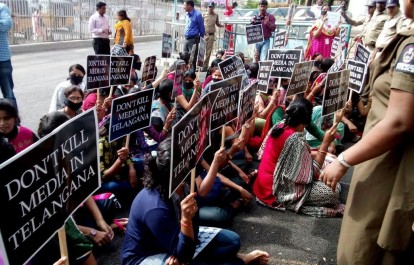 The International Federation of Journalists (IFJ) and its affiliate the National Union of Journalists (India) have strongly criticised the arrest of more than 40 women journalists in Hyderabad, Telangana, South India, on Tuesday, September 9. They also condemn the attacks on the journalists' equipment, including damage to a vehicle.
The journalists were protesting in front of the Chief Minister K Chandrasekhar Rao's camp office at Punjagutta against the banning of two Telugu TV channels TV9 and ABN Andhra Jyothi, in Telangana state, when they were arrested. They were held several hours before being released.
The Association of Telangana Multiple System Operators barred the two television channels on June 16, alleging them of airing anti-Telangana programs. Although the union minister of information and broadcasting, Prakash Javadekar, had issued directives to resume the telecast of the channels, this has not yet happened.
Telangana Chief Minister Rao has criticised the channels for 'tarnishing' the image of Telangana people and is reported as saying:  "If the media crosses its limits, the government will not only ban but take other courses of action as well. If you cannot respect others and if you cannot become part of our Telangana culture, you have no place here."
He is also alleged to have said to protesters: "Be careful, we will see your end if you cross your limits."
The NUJ (I) said in a statement: "The police force has obstructed journalists' movements and it is reported that one of the TV9 vans has been attacked by the police. It is also reported that the police cut the live cable to end the live telecast."
In the statement, President U Lakshman, and Secretary General, Prasanna Mohanty, said: "The NUJ (I) condemn the attack and arrest of the women journalists. The Telangana government should intervene into it and sort out the differences. "
The NUJ(I) has demanded a judicial inquiry into the issue.
IFJ Asia Pacific acting director, Jane Worthington, said the arbitrary ban and remarks by the chief minister were concerning.
The IFJ has called on the Telangana government to follow democratic legal procedures surrounding the complaints against the networks.
Written By

IFJ Asia-Pacific
The IFJ represents more than 600,000 journalists in 140 countries.
For further information contact IFJ Asia-Pacific on +61 2 9333 0946
Find the IFJ on Twitter: @ifjasiapacific
Find the IFJ on Facebook: www.facebook.com/IFJAsiaPacific
Comments