Press Statement
Journalists assaulted while covering poll violence in Kolkata
12 Apr, 2018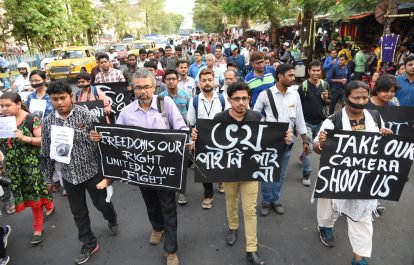 Photojournalist Biplab Mondal of The Times of India daily was forcibly undressed, illegally confined and beaten while other journalists and photojournalists were attacked in Alipore, Kolkata, West Bengal on April 9, 2018 while they were covering the filing of nomination papers for the polls to the local bodies (panchayats).
Other journalists, including ETV's Manas Chattopadhyay, were also attacked and forced to delete pictures from their mobile phones. Chatterjee sustained injuries on his right hand. The journalists alleged that the police were present but did not intervene to stop the violence.
The International Federation of Journalists (IFJ) condemns the attack on photojournalist Mondal and other journalists and demands immediate action against those responsible for the crime.
A group of attackers, allegedly affiliated to the ruling Trinamool Congress, saw Mondal taking pictures of the violence that broke out during the nomination and asked him to delete all the pictures. When he refused, he was beaten up, despite him telling them that he was a photojournalist. His mobile phone and camera were snatched and he was stripped half-naked.
He later said: "I was forcefully undressed by the ruling party goons. They threatened to click my half-nude pictures and upload them on Facebook. My only fault was that I was doing my duty."
The IFJ said: "The IFJ condemns the act of intimidation and violence against photojournalist Biplab Mondal, Manas Chatterjee and other journalists in Kolkata. Attacks on journalists, forcing them to delete photos and stripping of a journalist is an unacceptable crime and violates journalists' rights. Journalists have a right to freely report on incidents of public importance and without being intimidated. The IFJ urges the Indian authorities to immediately arrest and punish the attackers."
On Wednesday, April 11, journalists held a silent protest in Kolkata demanding action against the assaults.
Photo: Journalist held a silent protest in Kolkata on Wednesday, April 11, demanding action for the assault. Credit: Supplied
Written By

IFJ Asia-Pacific
The IFJ represents more than 600,000 journalists in 140 countries.
For further information contact IFJ Asia-Pacific on +61 2 9333 0946
Find the IFJ on Twitter: @ifjasiapacific
Find the IFJ on Facebook: www.facebook.com/IFJAsiaPacific
Comments