Afghanistan
Journalists at risk as IS, Taliban and Warlords fight over power in Afghanistan
29 Jul, 2015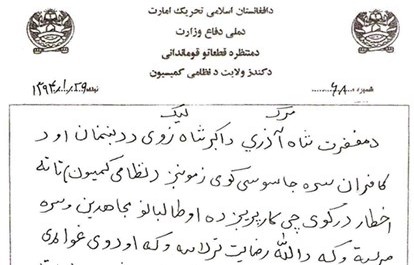 The recent Attack on Afghan Parliament shows how strongly Taliban are fighting to show Islamic State (IS) and Afghan government their power and control over the country.
Soon after this attack, Afghan Parliament invited senior security officials to answer to the lawmakers on deteriorating situation of security in the country. Mr. Rahmatullah Nabil, head of Afghan spy Agency (NDS), explained the situation in a briefing with other senior officials saying that the security situation may worsen further in the coming months. He said to the Afghan parliament that militant terrorist attacks may increase further in the coming six month due to the vacuum created with the departure of NATO troops from Afghanistan.
After a long and complicated presidential election process, delay in result announcement, fighting between National Unity government leaders over the distribution of sets and positions, lack of defense minister and departure of NATO and US troops from Afghanistan once again give the weak and broken groups of Taliban new chances to start their spring and summer operations with increasing targets in new locations.
The new season of bloodshed are widely spread from southern parts of Afghanistan to the nine provinces of northern parts (near to the former USSR) boarders for the first time in 15 years of a new government.
Various district of Badakhshan province such as far eastern Kabul (near to China and Tajikistan boarder) were targeted by insurgent and Afghan security forces facing serious casualties. And for the first time, some districts were controlled by local and foreign and Afghan Taliban and other insurgent groups.
Not very far from Badakhshan in Kunduz, another northeastern province, two major districts (Chahar Dara and Dashte Arche) close to Tajikistan boarders were captured by Taliban after long fighting and operations are still continued to clean many locations back from Taliban.
Recent attacks of Taliban and other insurgents group in Faryab and Saripul provinces northwestern part of the country shows that these groups want control major parts near to the Uzbekistan and Turkmenistan borders as will.
Beside northern parts of the country, Taliban and Haqani network kept a focus on Kabul and some other regions like Helmand, Farah and Nangrahar where Islamic State's (IS) Afghan fighters have claimed their influence, reaching new followers and supporters.
The recent presence of Islamic State (IS) fighters in Afghanistan has put Taliban under pressure and made them weaker. Islamic State (IS) is trying to increase their influence in Taliban-controlled areas which has become another major threat for media workers. First their presence was reported only in the Farah Provinces of western Afghanistan near to the Iran boarder and then later on in Helmand, Southern Afghanistan and also Nangrahar, the Eastern part of the country.
In the beginning, Afghan NATO officials, experts and politician ignored these reports but now it is hard to reject wide presence of IS in major parts of the country. There were long fights in eastern part of the country (in Nangrahar, near to Pakistani borders) between IS followers and Taliban for controlling districts and locations and Afghan governmental security officials were not able to protect ordinary Afghans, journalists and media persons in these fight over power.
New Threats for Media from Three sides:
The recent fight over power, presence and control between Islamic State (IS) fighter and Taliban groups and re-grouping of jihadi militia's (Warlords) are new serious threats and concerns for media workers and journalists covering worsening security situation and conflict in the country soon after  NATO departure from Afghanistan.
Right after their fist large attack in Jalalabad city (capital of Nangrahar province near to Pakistani boarders), IS issued serious directions to Afghanistan's Independent Journalists Association (AIJA) members on how to cover stories related to IS in their media organizations and threatened them in Nangrahar.
The concerned and threats were shared with media through interviews, press conferences, and briefings requesting governmental support for security and protection. No support was provided from the government side. Additionally this put Islamic State (IS) and Taliban divided groups in a new opposition and front against AIJA members.
After these briefings and interviews AIJA leadership was warned separately from both groups to stop propaganda against Islamic State (IS) and Taliban. Some of our members left working stations in eastern part of the country and moved to Kabul for similar jobs and activities.
AIJA President (Samandar Rahimullah) survived from an attack in Dushi district of Baghlan Province northern side of the country in his home town while visiting his family and relatives because of his comments on IS and Taliban role and weak positions for control and power and killing civilians in an April 2015 interview with Voice of America's (VOA) TV Ashna.
In July, Mr. Moyen Shah Haqani a young radio journalist was shot dead in Ghanikhail district of Nangrahar Province for his critical programs on local radio. Islamic State (IS) involvement in this killing is confirmed to the AIJA main office.
Before Mr. Moyen Shah Haqani was killed, Pajhwok News Agency regional office in Nangrahar was targeted with a bomb, which destroyed Pajhwok and VOA offices and equipments. At the same time, AIJA deputy Mr. Hujatullah Mujadidi survived from a kidnapping and attack in the Northern provinces (Kapisa) by local warlords. Mr. Maghferat Shah Azari, program manager of Kunduz provinces, received threat letters containing his killing order by Taliban military commission. He was attacked in June while he was on the way to office and got serious injuries.
photo 1: Killing order of Mr. Aazari issued by the Taliban in June 2015 | photo 2: Mr. Aazari after he as attacked in Kunduz by the Taliban.
These and several other cases in recent few months are the result of new seasonal operations of Taliban, Islamic State (IS) and their  increasing struggles for power and control on Afghanistan after NATO left the country and Afghan security forces were not able to protect media workers performing a tough job for keeping developments and press freedom alive.
The increasing influence of Islamic State (IS) removing Taliban from their controlling areas and the widespread of Taliban to northern side of the country, bringing former Jihadi groups and Warlords together to become united and activate their local militia and former illegal arm groups once again which, were disarmed with force from US lead NATO and ISAF forces few years ago.
The recent front and unity of former Warlords in northern part of the country between Balkh governor (Mr. Atta Mohammad Noor with his former enemies General Dostum (current first vice president) and Jihadi leader Mr. Muhaqiq (current deputy of CEO Dr. Abdullah) and others to stop Taliban – Islamic State (IS) influence in nine provinces of northern parts near to Turkmenistan, Uzbekistan, Tajikistan and Chinese boarders, made Afghans seriously concerned about another civil and ethnic war in the country and the journalists are the first target of all fights for control and power.
Samandar Rahimullah is the President of the Afghan Independent Journalists Association (AIJA) and Editor of the Wakht News Agency.
Photo courtesy: Samamdar Rahimullah.
Written By
Comments