Press Statement
Journalists attacked covering elections in West Bengal, India
08 May, 2019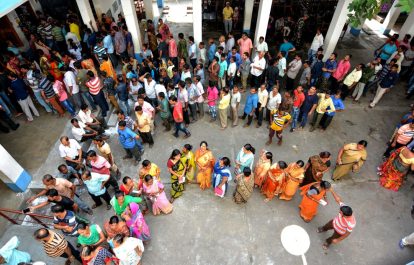 As India goes to the polls, attacks on journalists in the state of West Bengal were reported on Monday, May 6. The International Federation of Journalists (IFJ) and its affiliate the National Union of Journalists (India) have condemned the violence and called on state government and election commission to investigate the incidents.
On Monday, voting in the fifth phase of the Lok Sabha (India's national elections) took place, including in seven constituencies in West Bengal. Journalists from NewsX, ABP Ananda and Zee News were attacked, allegedly by Trinamool Congress (TMC) workers. According to The Indian Express two of its journalists were injured when TMC workers allegedly ransacked Bharatiya Janata Party candidate Arjun Singh's vehicle at Tetulia village. Journalists were physically assaulted, vandalized media personnel vehicles and they were also threatened if they did not leave.
NUJ(I) said that they would send a fact finding committee and appealed to the election commission and state government to investigate the attacks.
NUJ(I) Secretary General Sheo Kumar Agarwal said that NUJ(I) strongly criticize these barbaric acts and demand the State governments to nab the culprits at the earliest. We also demand to look into the security of the media persons, while covering different events in the states." said NUJ(I) in the statement.
The IFJ said: "The media play an important role in the monitoring and reporting on elections. They should never be attacked or intimidated during the election process. Just as elections are an important part of democracy, so too is the media and this role should never be underestimated. We call on the Indian authorities to investigate the attacks in West Bengal and guarantee the safety of the media in the remaining phases of the elections."
Written By

IFJ Asia-Pacific
The IFJ represents more than 600,000 journalists in 140 countries.
For further information contact IFJ Asia-Pacific on +61 2 9333 0946
Find the IFJ on Twitter: @ifjasiapacific
Find the IFJ on Facebook: www.facebook.com/IFJAsiaPacific
Comments