Press Statement
Journalists face difficulties as unrest in Kashmir continues
15 Sep, 2016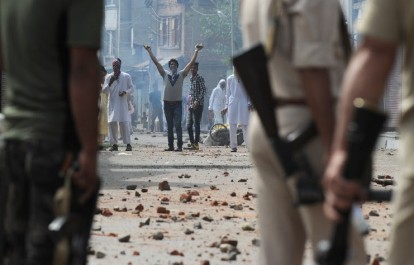 The International Federation of Journalists (IFJ) and its affiliate the National Union of Journalists (India) express serious concerns over press freedom violations by state and non-state parties in the ongoing protests in the state of Jammu and Kashmir. The IFJ condemns the press freedom violations in Kashmir and urges the security forces and demonstrators to refrain from attacking journalists and to show respect to rights of journalists who are attempting to report the reality amidst a communication blockade and threats from all sides.
According to reports, journalists and photojournalists are being subjected to attacks and harassment on a daily basis since the unrest began on July 8. At least four major incidents of press freedom violation were reported in first week of September.
On September 3, two photojournalists Muzamil Mattoo of the Kashmir Reader and Zuhaib Maqbool of an online news portal, were injured by the pellets fired by the security forces on a procession at Rainawari, Old Srinagar. Matoo sustained pellet injuries in head, back and arm, while Maqbool was hit in the eye and needed surgery. "A policeman who saw us taking photos fired pellets directly at us," Mattoo told his newspaper.
A day earlier on September 2, the Jammu Kashmir Armed Police force thrashed at least half-a-dozen photojournalists at Batamaloo in Srinagar while they were on duty. Mubashir Khan (Greater Kashmir), Aman Farooq (Greater Kashmir), Faisal Khan (Kashmir Reader), Shah Jahangir (CNS), Omar Asif (KNS), and Bilal Bahadur (Kashmir Life) were assaulted and thrashed by government forces.  Following the thrashing, the journalists staged a sit-in protest against the police action.
"We were cane charged by policemen after we asked them to allow us to film the scenes of curfew in the interiors of Batamaloo," said Khan, who was quoted in a report. "We were beaten despite producing our curfew passes."
Similarly, on September 1, TV journalist Ishfaq Gowhar of J-K Media Network Group, a leading cable TV provider, was first stopped by protesters near Naaz Crossing in Srinagar and after convincing them when he moved ahead the Central Reserve Police Force men deployed there attacked his vehicle (JK0AB/0733) and damaged it.
Earlier, Danish Bin Nabi of the Rising Kashmir was thrashed by protestors at the SMHS hospital where he went to report on the victims of police firing. Other journalists who went to report also faced the same fate.
In the evening of August 17, Sumaiya Yousuf, 25, a reporter with Rising Kashmir said she was accosted by the police in Jawahar Nagar, Srinagar when she was buying vegetables on the way home after filing her story. Despite showing them her press identity card, she was abused and beaten. Following her complaint, action has yet to be taken against the perpetrators.
The IFJ said: "The IFJ condemns the attacks on journalists and expresses serious concerns over the situation of press freedom in Kashmir, in ongoing civil unrest. We demand that the government not only allow journalists to report freely but also to ensure their protection. The IFJ expresses solidarity with journalists in the region and requests them to follow safety measures while reporting the unrest."
Photo: Violence broke out in Kashmir and Jammu in early July and has been followed with two months of protests and clashes. Protesters clash with the army on September 13. Credit: Tauseef Mustafa/AFP 
Written By

IFJ Asia-Pacific
The IFJ represents more than 600,000 journalists in 140 countries.
For further information contact IFJ Asia-Pacific on +61 2 9333 0946
Find the IFJ on Twitter: @ifjasiapacific
Find the IFJ on Facebook: www.facebook.com/IFJAsiaPacific
Comments