Press Statement
Journalists face increased attacks and threats in Nepal
23 Jul, 2018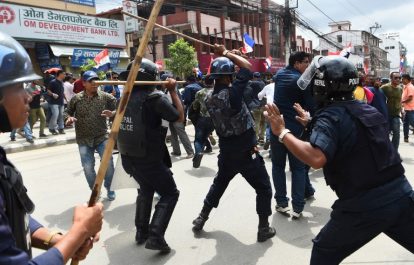 In recent days, journalists faced attacks and threats in recent days in Nepal while covering the demonstrations. The International Federation of Journalists (IFJ) joins its affiliates the Federation of Nepali Journalists (FNJ) and the Nepal Press Union (NPU) in condemning acts of violence and threats against journalists in last week.
On July 21, five journalists were attacked by Nepal police officers while they were covering clashes between the police and demonstrators near the Parliament in Kathmandu. Ajaya Babu Shiwakoti, the editor of hamrakura.com and general secretary of NPU, Maheshwor Gautam of Rajdhani daily, Nivesh Kumar of News24 TV, Skanda Gautam and Prabin Maharjan of The Himalayan Times daily were victims of the attack.
On July 18, LB Devkota of Kantipur daily and Prakash Upadhyay of AP1 TV sustained minor injuries after an attack by the police while they were covering the clashes between police and demonstrators supporting Dr Govinda KC's hunger strike in Jumla, Karnali. Police also tried to snatch away camera from the journalists and harassed them.
On July 22, journalist Bidur Katuwal, the joint secretary of FNJ Udayapur district, was threatened by Baldev Chaudhuary, the mayor of Triyuga Municipality, Devi Kumar Chaudhary, the vice-mayor, and Provincial Assembly member Sunita Chaudhary over a report.
Ramesh Bista, the general secretary of FNJ said: "The police atrocity on journalists performing their duty of informing the public is an attack on freedom of the press and expression. The FNJ condemns the incidents of minimizing the professional freedom and demands action against those involved."
Badri Sigdel, the NPU president, said: "The NPU believes that the government is acting in an authoritarian way to harass Nepali press; and reminds the government of the constitutional rights of Nepali citizens to freely express and free press as well as people's rights to assembly. The NPU also warns the authorities not to repeat such acts of press freedom violation."
The IFJ said: "The IFJ condemns police's atrocity on journalists covering the demonstrations in Nepal. For the democracy to function well, journalists and media should be allowed to independently report, and the state has a duty to facilitate the safe environment for journalists. Such acts of violence against journalists undermines journalists' role and weaken the press freedom. The IFJ urges the Nepal authorities not the repeat such acts, and take action against those involved."
—
Photo: Activists of the youth wing of Nepali Congress Party, scuffle with police during a demonstration against the government in Kathmandu on July 21, 2018. Several journalists were injured covering the clashes. Credit: PRAKASH MATHEMA/AFP 
Comments