Press Statement
Journalists in Pakistan facing lots of problems: PFUJ
04 May, 2016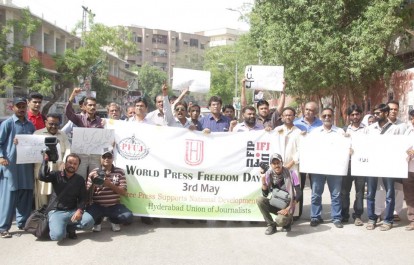 Speakers at the seminars held on World Press Freedom Day (WPFD) have said that working journalists were facing lot of problems and different hindrances by state and non state actors to perform their duties and the media profession was no more threat free despite UNO's and IFJ resolutions.
They said that more than 120 working journalists had sacrificed their lives in Pakistan just for performing their duties to propagate the voice of the people to get their basic rights.
Following the appeal of IFJ, the PFUJ affiliates organized seminars in different cities of the country on WPFD on May 3. A large number of journalists participated in the seminars and walks held at Lahore, Bahawalpur, Karachi, Islamabad, Rawalpindi, Faisalabad, Multan, Sargodha, Queta and Peshawar.
Main seminar was held in Lahore where PFUJ President Rana M. Azeem presided over a seminar jointly held by PFUJ, PUJ and Lahore Press club at Pearl Continental Hotel. It was attended by the renowned and senior anchors, journalists from print and electronic media, politician and students from different Universities.
The speakers said that there were number of resolutions besides UNO charter that guarantee the freedom of press but it was still struggling in most parts of the world. The government s were not ready to accept the freedom of Press and were busy in controlling the voice of the media.
President PFUJ Rana M. Azeem, President PUJ Shehzad Butt and President Lahore Press Club highlighted the problems of the working journalists to perform their duties and a number of journalists were killed in the line of duty but still they were not regularly being paid monthly salaries. They emphasized that the government responsible to implement the UNO charter should ensure the safety and regular salaries of the journalists.
Senior journalists and anchors Monnon Bhai, Arif Nizamai, Salman Ghani, Sajjad Mir and opposition leader in the Punjab assembly Mian Mahmood Rasheed were also critical in their speeches and said that media was playing important role to promote democratic governments but they were treated as the enemies and given tough time. They demanded the world bodies to take notice of such irregularity in the third world countries and take necessary action for the real freedom of press.
Candles were also lit at Lahore Press Club in the memory of martyred journalists.
Written By

Pakistan Federal Union of Journalists
Pakistan Federal Union of Journalists 8A Aboot Road, Lahore, Pakistan Phone: +92 321 4613322
Comments