Press Statement
Journalists physically attacked by political cadres in southern India
16 Jun, 2016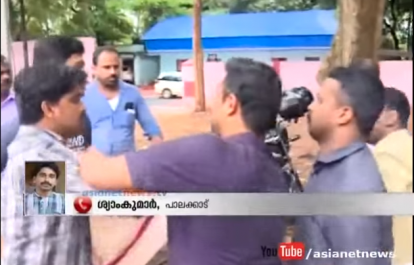 The International Federation of Journalists (IFJ) joins its affiliate the Indian Journalists Union (IJU) in condemning the attack on several journalists in Ottapalam, Palakkad of Kerala state in southern India on June 14. The IFJ demands immediate action from the Indian government to end the culture of violence against journalists and the media.

On Tuesday, June 14, Asianet News senior reporter Shyam Kumar, Reporter TV scribe Sreejith and City channel's cameraperson Anoop were attacked, reportedly by the cadres of the ruling Bharatiya Janata Party (BJP), as they tried to record footage of three BJP workers who were brought to the judicial first class magistrate court. The BJP workers were being presented in the court in connection with their involvement in political clashes.
The journalists were manhandled, while the attackers also damaged their cameras. Police were present when the journalists were attacked and walked away without intervening. Asianet News said that the attackers also threatened the journalists.
S N Sinha, IJU President, Amar Devulapalli, IJU Secretary-General and Press Council of India (PCI) Member K Amarnath condemned the attack on journalists in the premises of local court. The IJU said: "The journalists went there to cover as some local BJP leaders involved in a violent incidents Nellaya, were being produced in the court. They objected when the journalists were video recording/photographing the leaders brought to the court."
In a separate statement, the Kerala Journalists Union (KJU) President V B Rajan and General Secretary T Santosh Kumar condemned the attack and demanded adequate compensation to the attacked journalists and the damage to their equipment.  The IJU and the KJU termed the incident as an attack on freedom of the press and expressed concern over the arrogance of political cadres.
The IFJ said: "The rising number of attacks on journalists in India over the past 12 months is a worrying trend that works to silence critics and weaken press freedom. The Indian government must take immediate action to end the attacks and restore press freedom and journalist safety. The IFJ joins the IJU is demanding action and compensation for the victims."
Photo: Screenshot from AsiaNet footage of the attack in Kerala. Credit: AsiaNet
Written By

IFJ Asia-Pacific
The IFJ represents more than 600,000 journalists in 140 countries.
For further information contact IFJ Asia-Pacific on +61 2 9333 0946
Find the IFJ on Twitter: @ifjasiapacific
Find the IFJ on Facebook: www.facebook.com/IFJAsiaPacific
Comments