Press Statement
#JusticeforGauri – Statements of Solidarity
08 Sep, 2017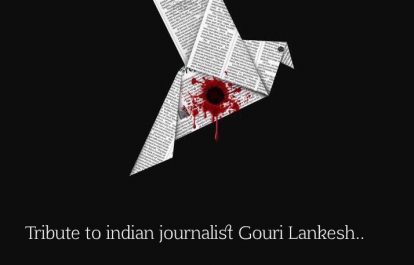 Gauri Lankesh, a veteran journalist and outspoken critic of Hindu nationalists, was shot dead outside her home in Rajarajeshwarinagar in South Bengaluru, Karnataka, as she returned from work on September 5, 2017. Below are messages of condemning her brutal murder and solidarity for the media in India.
International Federation of Journalists
"The brutal murder of Gauri Lankesh is a deplorable act to silence an outspoken, fearless and critical voice. The targeting and hounding of Lankesh for her critical journalism already played out in the courts before reaching this horrific and brutal conclusion. This action must be condemned at the highest levels and strong action taken by authorities in Karnataka state as it clearly follows a deadly pattern. The spike in murders in India in recent years raises serious and urgent questions about the government's ability to defend, support and promote the importance of press freedom."
National Union of Journalists (India)
"The NUJ(I) strongly condemns the killing. The NUJI(I) will register its protest against the killing to the central and state governments; and will demonstrate nation-wide against the killing. The media community needs to unite against killings of journalists."
Indian Journalists Union
"We hold the forces of hate responsible for the cowardly act."
Delhi Union of Journalists
"Delhi Union of Journalists strongly condemns the dastardly murder of journalist Gaouri Lankesh and demands immediate identification and arrest of the culprits. It calls up on members to join a collective protest at the Press Club of India at 3pm today."
Brihanmumbai Union of Journalists
"The Brihanmumbai Union of Journalists expresses shock and anger at the dastardly killing of Gauri Lankesh, editor of Lankesh Patrika, in Bengaluru this evening. Gauri Lankesh has been a trenchant and courageous critic of hindutva and casteist politics. Since last November, she has been fighting her conviction in a criminal defamation case against BJP MP in Dharwad Prahallad Joshi and was out on bail. Journalists will not  be cowed down by such cowardly acts. The BUJ demands that the Karnataka government move with speed to investigate the killing and book the assailants. As it is, there has been no progress in the investigation into the death of the renowned writer Kalburgi. The failure to book the culprits will further embolden obscurantist forces in their nefarious attempts to intimidate and silence independent voices of dissent and reason."
Network of Women in Media, India
"To the spirit of Gauri Lankesh, you inspire us forever. To journalists everywhere, this is a note of solidarity. We the Network of Women in the Media, India solemnly swear to uphold the values of journalism. This does not and should not need to be prefaced with good. Or courageous. Or brave. We must simply power on in the face of the greatest adversity, threats and political opposition to do what our job mandates. To be free and fair and stand together solidly behind each other to be able to rise against the tidal wave of intolerance and often criminal intimidation that surrounds us and tries to prevent us everywhere. We want to declare to ourselves and to everyone that is watching with and without malice – we will not be prevented, silenced, outdone or shut down.We at NWMI also take this opportunity to say we continue to back, fight for and voice each others' concerns legally, politically, journalistically. We urge everyone to not share insensitive pictures of Gauri's body post her killing. We would also like to bring to the notice of the Press Club of India, the Editors' Guild and Twitter of the online lynch mob that has surrounded the murder of Gauri Lankesh. In particular the twitter handle of  @JagratiShukla29 and others like her that have been baying for Gauri's blood need to be disbanded immediately. In continued determination, steadfastedness and support of each other and the universe of journalism we inhabit."
The NWMI demands that:
·    The investigation into the assassination of Gauri Lankesh be quick and thorough, and that her assassins – from the hitmen to the conspirators – be identified, charged and tried without undue delay.
·    Swift justice and strong criminal action be taken against those seeking to curtail and attack freedom of expression.
·    Supporters of the murder who are vitiating the atmosphere in the media, and social media in particular, be dealt with firmly to reinforce the message that violence is not an acceptable response to dissent.
·    Mechanisms be put in place to ensure safety for all journalists, to allow them to carry out their duties without fear or favour.
Indian Federation of Working Journalists
"IFWJ has condemned the brutal killing of journalist Gauri Lankesh in Banglore. IFWJ demands that the Prime Minister Sri Narendra Modi should consider implementing the "Journalist Protection Act" in the next session of Parliament."
Editor's Guild of India
"The Editors Guild of India is deeply shocked and strongly condemns the murder of Gauri Lankesh. Her killing is an ominous portent for dissent in democracy and a brutal assault on the freedom of the press."
Journalists Association of Assam
"Journalists' Forum Assam (JFA) strongly condemned the murder of Bengaluru  based editor-journalist Gauri Lankesh on 5 September 2017 by unidentified assailants. One of the senior journalist & social activists of Karnataka, Ms  Gauri was shot dead at her residence in Rajarajeshwari Nagar on Tuesday evening. Ms  Gauri, 55, was critical against all kinds of communal forces in the country. She also faced convictions in two defamation cases. Elder daughter of a noted Kannada litterateur- journalist P Lankesh, Ms Gauri used to receive threats from various extreme forces in the recent past, but she did not bow down. Survived by her mother, filmmaker sister Kavita, theatre worker brother Indrajit with others,  Ms  Gauriowned and edited 'Gauri Lankesh Patrike', a popular Kannada magazine. Karnataka chief minister and also a senior Congress leader Siddaramaiah condemned her murder and assured proper actions to book the culprits at the earliest. "Apart from non-physical attacks to silence media, as the year 2017 rolls on, India stands at an awkward position over the journo-murder index, as we have witnessed the murder of six professional journalists in the last nine months. Hence, we reiterate our old demand for a special protection law for the scribes across the country."
Catholic Bishops' Conference of India
"We condemn strongly and unequivocally the dastardly, brutal and cowardly murder of the senior woman journalist, Ms Gauri Lankesh. The murder of this versatile and brave journalist follows other crimes of hatred in recent times. The hatred cannot build a New India. We need love, peace and harmony and we appeal to all leaders, peoples, communities and persons in our beloved India to shun the ideologies of hatred."
All India Newspaper Employees Federation
"All India Newspaper Employees Federation (AINEF) condemned the brutal murder of a senior woman Journalist Gowry Lankesh on 5th September night at her residence in Bangalore City. AINEF said that the Government of Karnataka, and also Union Government should take stern action against killers who involved in her murder and protect the Journalism and Journalists in India."
Lahore Press Club
"Lahore Press Club condemned the killing of journalist Gauri Lankesh in a meeting held this evening at the Club. A resultion passed at the meeting attended by over 150 journalists says that we demand as immedaite arrest of those who killed Gauri. Paying tribute to Gauri Lankesh, the resolution says that her fight against religious fundamentalism and for the defence of the religious minorities was very courageous. She was a tireless campaigner against fanaticism and terrorism. Lahore Press Club believe that fight against fundamentalism and terrorism is common one for the Indian and Pakistani journalists. We are opposed to fundamentalists every day. The resolution expressed solidarity with Indian journalists across the country against the brutal murder and says we share your grief."
Asia Pacific Forum on Women, Law and Development
"We believe her murder in a large city, right outside her home, was possible because of the climate of impunity created to support violent, right wing groups and because religious and cultural extremism has been normalised in an attempt to enrich a few at the expense of the many."
Gerakan Media Merdeka (Geramm)
Gerakan Media Merdeka (Geramm) (The Movement for Independent Media) is in solidarity with our media colleagues in India over the reported murder of prominent Indian journalist Gauri Lankesh. According to reports, Gauri was shot dead outside her home in Rajarajeshwari Nagar, southwest of Bangalore, on Tuesday night.  Geramm understands that journalist groups across India have staged  protests over what was reported to be a cold-blooded murder, allegedly linked to reports critical of radical Hindu nationalists. According to the BBC, ministers belonging to India's ruling Bharatiya Janata Party (BJP) have also openly attacked journalists, using terms like "presstitute" (a mix of press and prostitute) to describe them. Geramm as such reiterates our stand to condemn any form of violence or attack against the press, more so in a situation which had escalated to the loss of lives. In principle, Geramm condemns the actions of any individual who resorted to using physical violence as a protest against any media report. Any dissatisfaction should be raised through the proper channels, exercising a right to respond or via existing legal means."
Read the IFJ statement here
See photos from actions across India here
Written By

IFJ Asia-Pacific
The IFJ represents more than 600,000 journalists in 140 countries.
For further information contact IFJ Asia-Pacific on +61 2 9333 0946
Find the IFJ on Twitter: @ifjasiapacific
Find the IFJ on Facebook: www.facebook.com/IFJAsiaPacific
Comments