Resources
Kabul: Pulse of Afghanistan
03 May, 2016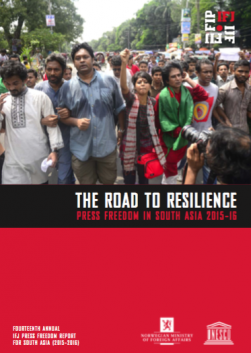 The Afghan capital Kabul has seen many changes from being the 'graveyard for the media' to the 'heart' of media outlets in the country. Located in the central mountainous region, it covers an area of 4585 square kilometres and divided by 14 districts. With a population of four million, Kabul is the most populous city in the country, housing one in every eight Afghans.
The city's first-ever fortnightly journal, Shamsun Nahar (Midday Sun) was published in 1873.  Since then, the media has had trodden a tumultuous path, especially during Taliban rule between 1994 and 2001 when national television went off the air and the only radio station functioning was the Saday-e-Shariat (Voice of Shariat). The station, which played no music and employed no female staff, was the national propaganda means for the Taliban. A number of print media outlets did survive through that time, but with no permission to print photographs on their pages.
Hub of media 
Following the Taliban regime's collapse in 2001, democracy was ushered into Afghanistan and media became a growth industry. Today, there are about 700 media outlets in the country including television channels, radio stations, news agencies and newspapers in the country. With many centered in Kabul, the city is now the centre of fourth pillar of democracy as well as being a centre for politics and the military.
Of the 70 Afghan TV channels, more than 30 operate from the capital, as do 50 of the country's 160 radio stations. Most print and online media outlets are also based in Kabul along with 25 of the 30 daily newspapers and more than a dozen popular online news agencies. It is estimated that nearly 3,000 journalists and media personnel including 500 women, currently work in Kabul. More than a dozen media support organizations also have their central offices in Kabul.
As Kabul is the capital and political centre, it has remained the target of warlords, economic and drug mafia and militant groups, especially the Taliban. After the withdrawal of NATO-led foreign troops from Afghanistan in 2014, Taliban attacks have increased as it intensifies its attempts to grab power. Given its location near the southeastern and southern provinces bordering Pakistan, the capital finds itself more vulnerable to attacks from militants.
Gunning for the media
Since 2001, at least 58 journalists and media workers have been killed in Afghanistan.
The incidents of violence against journalists including threats, intimidation and clampdowns on freedom of expression and activities of media have increased in the past year, particularly after the departure of NATO forces and the consequent decline in surrounding security.
A recent report by the Afghanistan Journalists Center (AFJC) reveals that 191 incidents of violence, threat and pressure on journalists – including 10 murders – were recorded in the year from March 2015, almost double that of the previous year.
From those attacks, Kabul has established itself as the epicenter with more incidents of violence against journalists than any other part of the country. Nearly 45 percent (85 incidents) of the violence against the media occurred in the capital.
The most dramatic and horrifying incident was the Taliban car bomb attack that killed seven staff of Tolo TV and left another 16 others injured. Wednesday, January 20, 2016 has now been declared 'Black Wednesday' after the attack, the first by the Taliban in 14 years of war and instability in Afghanistan.
The year prior, on October 12, 2015, insurgents had sent a warning to Tolo TV, the leading private TV channel and 1TV channel. Tolo TV is part of the Moby Group, a leading media and entertainment company founded in 2003 as a privately held company by the Afghan-Australian Saad Mohseni.
In its statement, Taliban militants accused the two TV channels for propagating information against them, declaring them and all employees as their sworn enemy. The group issued death threats to all staff and threatened to target the two institutions and their facilities. It also accused both channels of being directly funded by the US to promote western culture and challenge Islamic values and encourage divisions among people.
The suicide attack on Tolo TV was a culmination of a pattern of violence against journalists in Kabul. On December 21, 2014, a Taliban fighter detonated a suicide vest in the auditorium of the French Cultural Centre, inflicting casualties including school children and journalist. Zubair Hatami, a cameraman of Metra TV, was severely wounded and later died from his injuries in hospital.
On March 21, 2014, a group of Taliban insurgents stormed the Serena Hotel near the Presidential Palace and shot dead more than a dozen people including journalist Sardar Ahmad, his spouse and two of their children. Ten days before, an unidentified gunman shot dead Nils Horner, the South Asia correspondent for Swedish radio.
On June 5, 2007, Shakiba Sanga Amaj, a young female journalist of Shamshad TV, was shot dead in her house. In a similar case, on May 18, 2005, Shaima Rezayee, a former producer of music programs who had recently been terminated from her job, was shot dead. Her program of western and Afghani music had also drawn criticism from the Taliban.
On November 19, 2001, five days after the NATO alliance took control of Kabul from the Taliban and while local authorities had not yet secured full control over the province, an unknown armed group, possibly the Taliban, abducted four journalists: a reporter and photographer of Reuters, a reporter of El Mundo daily of Spain and a reporter of Corriere della Sera of Italy and shot them dead.
During the Taliban regime, although there were only a few media. BBC became the most trusted medium of news and information for the locals. On July 19, 1994, Mirwais Jalil, a BBC reporter was gunned down after his interview with a key Jihadi commander, Gulbuddin Hekmaytar.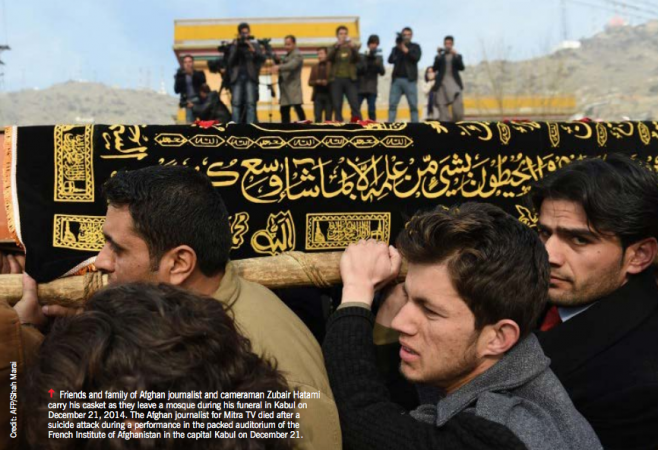 Lack of safety and sustainability
The level of violence and threats over the past one year and deteriorating security situation has made it extremely difficult for Kabul's media to report independently.
No positive changes can come for the country's media if the security situation does not improve and the government does not work to protect the rule of law. It is also clear that challenges remain around government employees in terms of access to information and the fact that current security personnel do not value freedom of expression and activities of media.
Due to the ongoing threats in the profession, 108 journalists and media workers left Afghanistan seeking asylum abroad between early 2015 to February 2016. Of these, 71 were from Kabul, according to a report '108 Afghan media workers join refugee stream to Europe' by the Pajhwok news agency.
The lack of physical security is compounded by the financial crunch. The withdrawal of 100,000 foreign troops in 2014 and reduction in international assistance to the media have increased the financial problems of media organizations. The major source of revenue for the media is advertisements, with the NATO-forces and related agencies being the top advertisers. Although no accurate statistics are available, it is estimated that hundreds of journalists have lost their jobs due to current financial constraints in the media houses.
Digging for stories
Investigative journalism, which has a vital role to play in a post-war country dealing with reconstruction and issues of corruption and lack of governance, is still in its infancy.
Although the president of the Unity Government of Afghanistan, has variously insisted that investigative journalism is key to helping expose corruption, the government itself has not given any practical support to fostering this in the media and has largely ignored reports on international corruption, including one by the Integrity Watch Afghanistan which ranked the country poorly in terms of good governance.
The Free Media Consortium (FMC) which includes Pajhwok Afghan News, Hasht-i-Sobh newspaper, Sabah Television and Killid Group, has done some groundbreaking investigative work in Afghanistan. Since its establishment in 2013, it has released 20 investigative reports highlighting grave issues in the public interest. In spite of this, its reporters claim no action has been taken by government. Instead, whistleblowers faced threats at the behest of the powerful outed in its reports.
Although on November 30, 2015, the Access to Information Act was passed and signed by the president, government officials in Kabul are yet to easily share information with journalists and sometimes work actively to limit their freedom of expression. Ironicallky, the Taliban are more likely to share information with media than the government itself.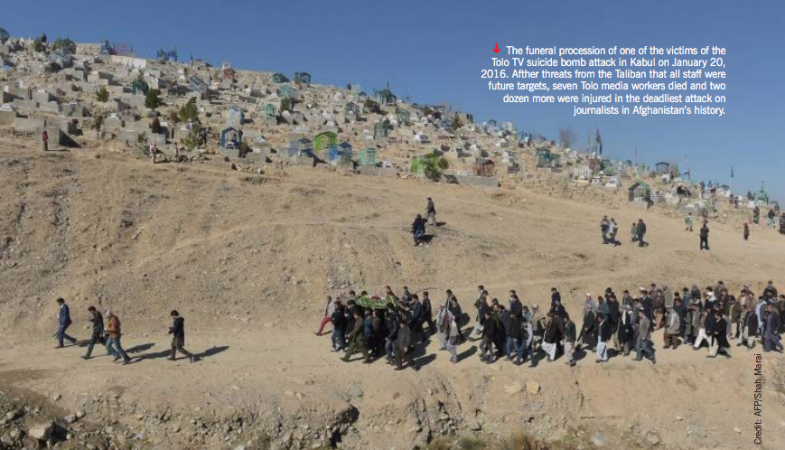 Status of woman journalists
Sadly, the number of female employees is declining. Out of around 10,000 working journalists in Afghanistan today, some 2,000 are women. Around 500 are located in Kabul. It is understood there are currently no female Afghan reporters working on the ground for international media outlets.
According to a report by Afghan Journalist Safety Committee (AJSC), female journalists face rampant gender discrimination and sexual harassment. These problems also come as the direct by-product of the prevailing traditions and customs in Afghan society, meaning female media workers face intense challenges within the Afghan context overall.
Women journalists in Afghanistan fight for their rights and livelihoods on two fronts. The first involves persuading their immediate family, close relatives and, in some instances, tribes, to grant them permission to work outside the home. Many families are opposed to their daughters and wives working outside the house and a woman's decision to work in media usually isn't solely her own choice: relatives and acquaintances tend to get involved. On the second front, female journalists have to battle discrimination, ill-treatment and lack of proper working environment. Lack of job and health insurance and also the unjust contracts are some other problems for the journalists in Kabul, a situation that impacts women journalists more acutely.
Government response
After violence and threats against journalists and attacks on media outlets reached a peak in 2016, representatives of journalists' federations and media from 15 organizations met the President Mohammad Ashraf Ghani on February 2, 2016. After sharing their concerns and a call for action, the president pledged that government resources in Afghanistan would be spent to address to the problems of journalists. He also said the government would conduct international campaigns for the rights of Afghan journalists, including putting pressure on Pakistan, the main supporter of Taliban, to respect the freedom of media in Afghanistan.
On January 31, 2016, a decree from the president ordered related government departments to take urgent measures to resolve the problems and challenges of journalists and media outlets especially in the spheres of security, safety and access to information.
On February 27, 2016, a special committee was established by the Afghan government to investigate the cases of violence against journalists and media workers. The government also took practical steps to establish a support fund for journalists. But only time will tell whether these measures are effective in the reduction of violence, ensuring safety and punishing the perpetrators of killings and violence against journalists and reducing the atmosphere of threat.
Journalists and Media Workers Killed in Kabul 1994-2016
| | | | | |
| --- | --- | --- | --- | --- |
| No | Date | Name and occupation | Media | Details |
| 1 | January 20, 2016 |  Mohammad Jawad Hussaini,31, video editor | Tolo TV | Killed when a Taliban suicide bomber targeted their bus in Kabul. |
| 2 | January 20, 2016 | Zainab Mirzaee, dubbing artist | Tolo TV | Killed when a Taliban suicide bomber targeted their bus in Kabul. |
| 3 | January 20, 2016 | Mehri Azizi, graphic artist | Tolo TV | Killed when a Taliban suicide bomber targeted their bus in Kabul. |
| 4 | January 20, 2016 | Mariam Ibrahimi,22, dubbing artist | Tolo TV | Killed when a Taliban suicide bomber targeted their bus in Kabul. |
| 5 | January 20, 2016 | Mohammad Hussain, driver | Tolo TV | Killed when a Taliban suicide bomber targeted their bus in Kabul. |
| 6 | January 20, 2016 | Mohammad Ali Mohammadi, dubbing artist | Tolo TV | Killed when a Taliban suicide bomber targeted their bus in Kabul. |
| 7 | January 20, 2016 | Husain Amiri | Tolo TV | Killed when a Taliban suicide bomber targeted their bus in Kabul. |
| 8 | December 21, 2014 | Zubair Hatami, cameraman | Mitral TV | Injured during a Taliban suicide attack on a French-run school in Kabul, succumbed to his wounds in hospital. |
| 9 | March 21, 2014 | Ahmad Sardar, 40, Reporter | AFP | Killed in a Taliban attack on Kabul's Serena hotel |
| 10 | March 11, 2014 | Nils Horner, 51, reporter | Swedish Radio | Shot to death in a high-security zone of Wazir Akbar Khan diplomatic district in Kabul. |
| 11 | January 26, 2014 | Mohammad Shahed Naimi, 22,producer | Nawa Radio | Killed in a Taliban suicide attack on a vehicle carrying Afghan National Army staff. |
| 12 | September 20, 2011 | Sayed Farhad Taqadossi, cameraman | Press TV | Killed when a Taliban-fired rocket landed in the courtyard of the TV channel's office in Kabul |
| 13 | September  5, 2010 | Sayed Hamed Noori, anchor | Afghanistan National Radio TV | Killed in attack by unidentified gunmen near his home in Makroryan area of Kabul. |
| 14 | January 15, 2008 | Carsten Thomassen, 39, reporter | Dagbladet news paper | Killed in a Taliban attack on Kabul's Serena hotel. |
| 15 | June 5, 2007 | Shakiba Sanga Amaj, 22, anchor and presenter | Shamshad TV | Shot dead in her house in Kabul. |
| 16 | May 18, 2005 | Shaima Rezayee, 24, presenter | Tolo TV | Murdered by a unknown gunman in her home in Kabul. |
| 17 | November 19, 2001 | Harry Burton, 33, cameraman | Reuters | His car in a convoy heading from Jalalabad to Kabul was stopped by a group of bandits. Burton and three other journalists were pulled out from their vehicles and shot dead. |
| 18 | November 19, 2001 | Julio Fuentes, reporter | Spanish newspaper El Mundo | His car in a convoy heading from Jalalabad to Kabul was stopped by a group of bandits. Fuentes and three other journalists were pulled out from their vehicles and shot dead. |
| 19 | November 19, 2001 | Maria Grazia Cutuli | | Her car in a convoy heading from Jalalabad to Kabul was stopped by a group of bandits. Cutuli and three other journalists were pulled out from their vehicles and shot dead. |
| 20 | November 19, 2001 | Azizullah Haidari, photographer | Reuters | Her car in a convoy heading from Jalalabad to Kabul was stopped by a group of bandits. Haidari and three other journalists were pulled out from their vehicles and shot dead. |
| 21 | July 29, 1994 | Mirwais Jalil, reporter | BBC | Kidnapped and murdered while returning from an interview with renegade prime minister Gulbuddin Hekmatyar at his base in Charasyab, south of Kabul. |
(This is a part of the capsule report for the South Asia Press Freedom Report 2016 which is available to download in resource section.)
Supported by 

Written By

IFJ Asia-Pacific
The IFJ represents more than 600,000 journalists in 140 countries.
For further information contact IFJ Asia-Pacific on +61 2 9333 0946
Find the IFJ on Twitter: @ifjasiapacific
Find the IFJ on Facebook: www.facebook.com/IFJAsiaPacific
Comments