Resources
Kashmir, India: The Unquiet Valley
03 May, 2015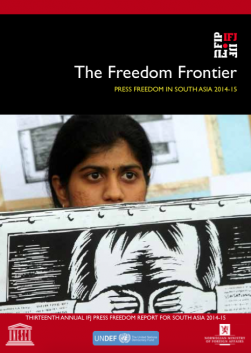 The Indian-administered Kashmir Valley has been reeling under trouble for almost three decades. In late 1989, the armed rebellion that broke out has consumed thousands of human lives so far.
Over the past 25 years, media in Jammu and Kashmir has walked on a razor's edge. It has been a battle of survival for the journalists working in the state that has seen an armed insurgency and intense militarisation as well as indiscriminate application of the draconian Armed Forces (Special Powers) Act and other public order laws. With the warring parties training their guns on the media it has been difficult to find a middle path, balance the news and stay safe. The media has suffered in the form of direct attacks, intimidation, threats both visible and invisible and pressures from various quarters. At least 14 journalists have been deliberately killed during the period of conflict. Though the situation seems to have eased the inherent problems that a conflict throws up continue to cast a shadow. Nevertheless the media has emerged as a vibrant sector in Kashmir giving voice to the people.
Looming threats
The past few years have seen recurrent threats to media in Kashmir. There has been a significant decline in the visible pressure from armed groups but 2008-2010 have been the worst years for the media in Kashmir as far as the government is concerned. Those expressing dissent, including the media, were severely suppressed. Public unrest was at its peak first after the row over the allotment of land to the Hindu shrine at Amarnath that resulted in the deaths of 60 people; the alleged double rape and murder of two women in Shopian in 2009 followed by the unprecedented agitation of 2010 in which 120 people were killed at the hands of police and paramilitary forces.
The brunt of this suppression of dissent was faced by the media as well as the common people. Newspapers were forced to suspend the publication for several weeksnd scores of journalists/photo-journalists were either arrested or beaten while performing their professional duties. In the words of a senior editor "the year 2010 was the year of press emergency in Kashmir".  During the recent parliamentary and assembly elections in 2014, many journalists were either beaten or stopped from discharging their duties by the police and paramilitary forces.
On April 3, 2014 journalists organised a sit-in in Srinagar to press for accreditation passes for all those journalists who were supposed to cover elections. Many of the journalists were denied these passes by the authorities.
Sheikh Inayet, a local correspondent for Times Now TV, and Zahoor Ahmad Bhat, a reporter for the Sharherbeen Times, were covering a local party's election meeting in Bandipora on April 19, 2014, when they were attacked and badly injured by members of the elite Special Operations Group (SOG), as well as police officers.
Javed Dar, a photo-journalist working for Xinhua News, was injured after being attacked by police in the town of Kulgam on April 24, 2014, while the windows of the car belonging to Farooq Javed Khan, the journalist accompanying him, were smashed. The other journalists who got injured in police action were identified as Naseer Ganai from Mail Today, Fayaz Wani, Faisul Yaseen, Rising Kashmir reporter Manzoor-ul-Hassan, Associated Press (AP) photographer Mukhtiyar Khan, and AFP Photographer Touseef Mustafa.
Shabnam Fayaz of Munsif TV and Aadil Umar Shah of Voice TV had to be hospitalised after being beaten by the police while covering protests in Pulwama, a town to the west of Srinagar, on April 24, 2014. Since police was deployed to quell a demonstration they did not like the presence of journalists in the area.
The house of Sheikh Saleem, a journalist working with Rising Kashmir was attacked by unknown people on August 3, 2014. His house was damaged but he escaped unhurt. He believes that some of his stories might not have gone down well with certain people in the area. He lodged a complaint with police.
Natural disasters have also taken their toll. A photo journalist Shafat Siddique working for Hindi Dainik Jagran was washed away in the devastating floods in the Kashmir Valley in September 2014 while discharging his professional duty. A vigorous campaign by Srinagar-based professional groups such as the Kashmir Press Photographers' Association forced Dainik Jagran to pay INR 900,000 (USD 15,000) as ex gratia relief to the family.
Still a militarised zone
Even as the shadow of militancy remains, for the last several years, the threat from non-state actors has declined. Invisible pressures continue to exist but direct threats have reduced. Since the conflict continues in Jammu and Kashmir, there are several professional hazards for journalists in what has been described as "the most militarised zone in India". The work environment is not secure as the chances of crossfire, land mine blasts and bomb blasts have not decreased and journalists are working in a risky atmosphere. Even today, journalists are stopped at various points occurs on a regular basis, severely affecting their mobility. Only on March 26, 2015, a senior journalist Khurshid Qureshi working with a local daily was beaten by the security guards at a local hospital in Srinagar. "Democratic" governments have been in power but the risks have not disappeared.
Reporting from areas close to Line of Control (LOC) that divides the state of Jammu and Kashmir in two parts between India and Pakistan is hazardous. Ashutosh Sharma, a freelance journalist who has worked extensively in these areas with a focus on people's problems due to mining says that it was not easy to get access. "While reporting from these areas, I've felt that local civil and military administration in particular and government in general want the reporter to write in a certain way. The reporter is always denied access to the worst affected areas and people—sandwiched between land mines and huge walls of concertina wire", he says.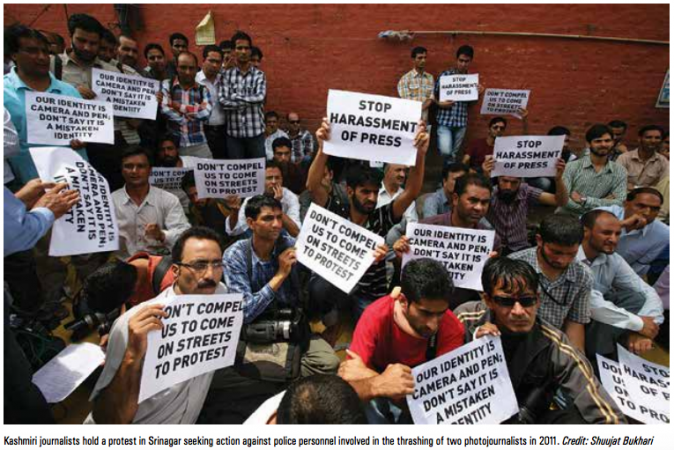 Job insecurity
Job insecurity has been haunting journalists in Kashmir for decades, as has the lack of insurance cover. For those working in national and international media, this is a matter of concern because Kashmir's conflict is no longer at a peak, and therefore the focus has shifted to other hot spots. Some organisations have wound up their bureaus, leaving many jobless. In local newspapers too, problems exist, as government advertising remains the only source of revenue for them. In case there is a conflict of interest the government cracks the whip and the result is a financial crisis. In 2010 several newspaper offices laid off journalists. Same is the case with insurance cover. "We have no such agencies either at government or non- government level that could provide or advocate the cause of security or insurance cover for the scribes," says Rashid Maqbool editor of a local Urdu daily Buland Kashmir.
Culture of impunity
Over the last 25 years, the government has not taken a single case of killings, arrests or attacks on journalists to the logical end. No case has even been properly investigated. Under the garb of fighting militancy these cases are ignored. Jammu and Kashmir also has draconian laws such as the Armed Forces (Special Powers) Act that give unbridled powers to security forces. Likewise, the Public Safety Act, termed by Amnesty International as a "Lawless Law" continues to be used in arbitrary ways to harass journalists. The latest victim of this Act was Maqbool Sahil, working for Urdu daily (then weekly) Chattan, who was booked in 2005 and released after four years. There are other laws, such as Unlawful Activities Act and Official Secrets Act, which are being used against newspapers in case the government does not like something that is published. These cases are booked under sections pertaining to law and order. There is no mechanism for redressal of grievances in the state.
Lack of security for women journalists
There are only few women journalists working in Kashmir. Due to social taboos, late working hours and overall security environment the women find it difficult to work as full time reporters. But the trend in changing and they are slowly moving towards assuming a more significant role in the media in Kashmir. Apprehensions remain, however. "It will take time for a conducive atmosphere to be put in place. Lack of security is an issue. Job security is also an issue. But things are slowly changing" said Rahiba Parveen who works as a political reporter for Rising Kashmir daily.
Need for unity
Some journalist bodies that have been formed over the years in Kashmir are too fragile to influence the state and/or non-state actors as pressure groups. One of the main reasons for the lack of emergence of journalist bodies during the conflict was the need that journalists felt to maintain a low profile. There were apprehensions about being identified in public and coming under scrutiny. Lack of trust and confidence among journalists has also been a factor, given the fact that many competing forces in the conflict tend to infiltrate and manipulate such bodies for their own interests. That is the reason why Srinagar is perhaps the only city in South Asia that does not have a Press Club. There is no place for journalists to sit, chat, share information and contacts and simply relax. But things may improve in the years to come. "The government has just announced a Press Club for Srinagar in the recent budget. Let us hope that it works and we can have a place where we can sit with dignity," said Peerzada Ashiq, who works for the Hindustan Times.
Media Workers Killed in Kashmir since 1990
| | | | | |
| --- | --- | --- | --- | --- |
| | Date | Name | Organisation | Details |
| 1 | February 13, 1990 | Lassa Koul | Director of Doordarshan Kendra (Government owned TV station) | Shot by insurgents |
| 2 |  March 1, 1990 | P N Handoo | Assistant Director, Information Department, Government  of Jammu & Kashmir | Shot by insurgents |
| 3 | Early 1990 | Mohammad Sidiq Sholori | Calligrapher | Last seen in early 1990 in custody of paramilitary Central Reserve Police Force. Presumed dead. |
| 4 | April 23 1991 | Mohammad Shaban 'Vakil ' | Editor, Al Safa, a local Urdu daily | Killed by insurgents in his office |
| 5 | September, 29,1992 | Ghulam Nabi Mahajan | Calligrapher | Killed alongside his son by security forces in Srinagar |
| 6 | October 16, 1992 | Syed Ghulam Nabi | Joint Director, Information Department | Killed by unknown gunmen in Srinagar |
| 7 | August 29, 1994 | Ghulam Muhammad Lone | Freelancer | Killed along with son by security forces in Kangan |
| 8 | September 10, 1995 | Mushtaq Ali | Journalist with Agence France-Presse and Asian News International | Killed by a parcel bomb at the BBC office in Srinagar |
| 9 | April 10, 1996 | Ghulam Rasool Sheikh | Editor of Urdu-language daily Rehnuma-e-Kashmir and English-language weekly Saffron Times. | Kidnapped and found dead in Kashmir's Jhelum River |
| 10 | January 1, 1997 | Altaf Ahmed Faktoo | Newscaster with Doordarshan TV | Killed by insurgents in Srinagar |
| 11 | March 16, 1997 | Mohammad Saidan Shafi | Special Correspondent with Doordarshan TV | Killed as insurgents fired at his car in Srinagar |
| 12 | August 10, 2000 | Pradeep Bhatia | Photographer with The Hindustan Times | Killed by a mine blast in Srinagar |
| 13 | January 31, 2003 | Parvaz Muhammad Sultan | Chief Editor of News and Feature Alliance | Shot dead in his office by unidentified gunmen. |
| 14 | April 20, 2004 | Asiya Jeelani | Freelancer | Killed in a landmine blast |
| 15 | May 9, 2004 | Abdul Majid Bhat | Senior reporter with Information Department | Killed in a blast in Doda town |
| 16 | August 29, 2004 | Javed Shah | Editor of Watan | Killed by insurgents in his office in Srinagar |
| 17 | September 14, 2006 | Shabir Ahmad Dar | Freelance Photographer | Unidentified gunmen abducted him in Samboora, Pulwama. He was later slaughtered and his body found in two parts. |
| 18 | May 11, 2008 | Ashok Sodhi | Daily Excelsior | Killed while covering a gunfight between militants and security forces in Samba |
| 19 | August 13, 2008 | Javed Ahmed Mir | Channel 9 cameraman | Shot by security forces in Srinagar |
(This is a part of the capsule report from the conflict zones for the South Asia Press Freedom Report 2015 which is available to download in resource section.)
Supported by 

Written By

IFJ Asia-Pacific
The IFJ represents more than 600,000 journalists in 140 countries.
For further information contact IFJ Asia-Pacific on +61 2 9333 0946
Find the IFJ on Twitter: @ifjasiapacific
Find the IFJ on Facebook: www.facebook.com/IFJAsiaPacific
Comments