Press Statement
Kashmiri editor arrested for 27-year-old terrorism case
29 Jul, 2019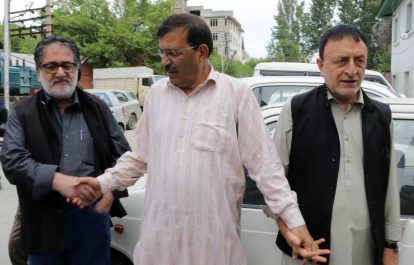 A Kashmiri editor was arrested in a late night raid on his home in Srinagar on June 24. The International Federation of Journalists (IFJ) and its affiliate Indian Journalists Union (IJU) strongly criticise the circumstances of the raid and the misuse of law as yet another attempt to muzzle the freedom of press in Kashmir.
The respected veteran editor of Daily Afaaq, Ghulam Jeelani Qadri, was taken from his home by police and arrested on a non-bailable warrant issued in relation to a case dating back to 1992. He was later released on bail by the Chief Judicial Magistrate, Gowhar Majeed, when police were unable to provide any clear details and specific justification for the arrest of Qadri for a case dating back some 27 years.
The case against Qadri and eight other journalists related to publication of a press-release issued by militants in 1992. Qadri, who then ran the now defunct local news agency Jammu and Kashmir (JAK) news, was arrested under Section 3 of the controversial Terrorist and Disruptive Activities (Prevention) Act. The Act was the first anti-terrorism law legislated by the government to define and counter terrorist activities in India.
IJU president, Amar Devulapally, and secretary general and IFJ vice president, Sabina Inderjit, said the action by the police "negated the rule of law in the State, now under Governor's rule" and demanded an apology be tendered.
The IFJ and its affiliates continue to document threats to media in the region, including the termination of government advertising for English newspapers Greater Kashmir and Kashmir Reader since February 2019. On June 14, four photo and video journalists were also beaten by police and their cameras taken as they attempted to cover a gunfight that broke out between militants and security forces in South Kashmir's Pulwama district which resulted in the death of two militants. While demanding action against the accused security forces personnel responsible, the Kashmir Press Club reiterated concern for difficulties faced by journalists working in Kashmir.
The IJU demands the JAK administration refrain from unnecessarily hounding journalists and commit to upholding the independence of the media in the State.
The IFJ said: "We strongly condemn the arrest of Ghulam Jeelani Qadri, who is a reputable veteran journalist in his local region who was raided in his home in the dead of night on decades old charges. We demand all charges be dropped and remain critical of the ongoing attacks on media freedom in Jammu and Kashmir that continue put journalists in peril of attack and legal harassment."
Written By

IFJ Asia-Pacific
The IFJ represents more than 600,000 journalists in 140 countries.
For further information contact IFJ Asia-Pacific on +61 2 9333 0946
Find the IFJ on Twitter: @ifjasiapacific
Find the IFJ on Facebook: www.facebook.com/IFJAsiaPacific
Comments