Press Statement
Maldives approves defamation law curtailing press freedom
11 Aug, 2016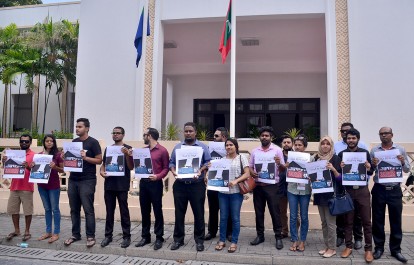 The International Federation of Journalists (IFJ) and its affiliate the Maldives Journalists Association (MJA) condemn the passing of the Anti-Defamation and Freedom of Expression Act on Tuesday, August 9. The IFJ urges Maldivian President Abdulla Yameen not to ratify the Act.
On August 9, the Maldivian Parliament passed the act with 47 Members of Parliament voting in favor and 31 voting against. The act was presented to Parliament for voting despite international condemnation against the new legislation. The law criminalizes defamatory speech, remarks, writings and actions and empowers the state authority to shut down media for its 'defamatory' contents. The law includes a fine between MVR 25,000 (US$1,621) to MVR 2million (US$130,000) or up to six month of imprisonment for slander, remarks or content that threatens national security or breaches social norms. Individual journalists found guilty face fines between MVR50, 000 (US$3,242) and MVR150, 000 (US$9,727), while a decision can only be appealed once the fine has been paid.  In addition, journalists could be forced to reveal sources of information, which contradicts the Article 28 of the Maldives Constitution.
The US, UK, EU, Germany, Norway and the Netherlands issued a joint statementprior to the vote on the legislation, saying that is was a "serious setback for freedom of speech in the Maldives." The statement went on to say: "It will allow severe penalties to be imposed on those who which exercise their democratic rights and freedoms."
The bill was proposed in March 2016, and received widespread criticism from the country's journalists and media community. Large protests were held outside the Maldives' Parliament, which saw journalists arrested. The Maldivian media community also launched a campaign against the bill,#27geDhifaauga (in defence of 27) in reference to the constitutional article that guarantees freedom of expression.
The passing of the legislation is a step back for the Maldives, which had voted in November 2009 to decriminalize defamation under the former President Mohammad Nasheed.
The MJA said: "The MJA strongly opposes the law as it curtails freedom of expression and stifles press freedom. The approval of the bill is a serious setback to democracy in Maldives."
The IFJ said: "The passing of the defamation legislation is a setback for freedom of expression in the Maldives, as well as an attack on the country's democracy and press freedom. Across the world, defamation laws are used to silence and intimidate critics, ultimately weaken the media. The Maldives had taken positive steps to end defamation across the country in 2009, yet the passing of this legislation is a major setback for the country. The passing of this legislation goes against global trends, which continue to see the decriminalization of defamation."
"We stand with MJA and the Maldivian media in condemning the new legislation and demanding President Yameen not ratify the bill."
Photo: Journalist protested the defamation bill in Male. Credit: Mohamed Afrah
Written By

IFJ Asia-Pacific
The IFJ represents more than 600,000 journalists in 140 countries.
For further information contact IFJ Asia-Pacific on +61 2 9333 0946
Find the IFJ on Twitter: @ifjasiapacific
Find the IFJ on Facebook: www.facebook.com/IFJAsiaPacific
Comments