Press Statement
Maldives government proposes law to criminalise defamation
30 Mar, 2016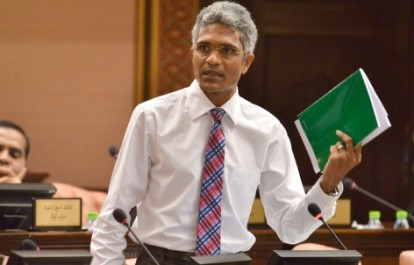 The International Federation of Journalists (IFJ) joins its affiliate the Maldives Journalists Association (MJA) in strongly criticising the proposed 'Defamation and Freedom of Expression Act' in the Maldives. The IFJ demands immediate withdrawal of the bill and urge the Maldivian government to review it with all stakeholders including the media and journalists to ensure it meets the international standards.
On March 22, the ruling Progressive Party of Maldives Parliamentary Group leader MP Ahmed Nihan presented the defamation and freedom of expression bill to the Maldives parliament.
The draft law, prescribes hefty fines of between MVR50, 000 (US$3,200) and MVR5 million (US$324,000) as penalties for violations, with offenders who fail to pay the court-imposed fine will face a one-year jail term. Newspapers and websites that publish "defamatory content" may also have their licenses revoked, while the draft law says that the constitutional right to freedom of speech can be narrowed or restricted if an expression contradicts a tenet of Islam, threatens national security, defames or causes damage to an individual, or violates societal norms.
On March 27, a group of 10 senior Maldivian journalists released a joint statement saying the bill will ''prevent journalists and citizens from speaking out over serious accusations of corruption and the integrity of state officials'. Editors and senior journalists of Haveeru, Sun Online, Avas, V News, Raajje TV, Dhi TV, Chanel News Maldives and The Maldives Independent, in the petition, said: "According to the articles of the proposed bill, a person or media organisation who offends someone, they can use the excuse of being defamed and run a criminal investigation through the police and charge them. Therefore, this bill clearly violates the fundamental rights ensured to the citizens by the Constitution."
The MJA has joined the editors and senior journalists in calling the government, relevant government authorities and the members of the Parliament to remove the articles in the proposed bill that violates the freedom of media and the freedom of expression ensured by the constitution to every citizen.
In November 2009, the Maldives legislative body, the People's Majlis, had decriminalised defamation under President Mohammad Nasheed. The move received widespread praise, including from the United Nations, noting it was a clear victory for freedom of expression.
The IFJ said: "The proposed defamation and freedom of expression bill is an attack on press freedom and the media. This move by the government is aimed at silencing critics and weakening the country's already fragile media.  The bill proposes criminalising defamation which is against the international standards and is a threat to freedom of expression and free press. The IFJ calls on the government to immediately withdraw the bill and hold open consultations with all stakeholders regarding defamation and freedom of expression."
Photo: Majority leader MP Ahmed Nihan who presented the proposed law to the parliament. Credit: Maldivian Parliament
Written By

IFJ Asia-Pacific
The IFJ represents more than 600,000 journalists in 140 countries.
For further information contact IFJ Asia-Pacific on +61 2 9333 0946
Find the IFJ on Twitter: @ifjasiapacific
Find the IFJ on Facebook: www.facebook.com/IFJAsiaPacific
Comments