Press Statement
Maldives: Government to amend controversial evidence act
27 Sep, 2022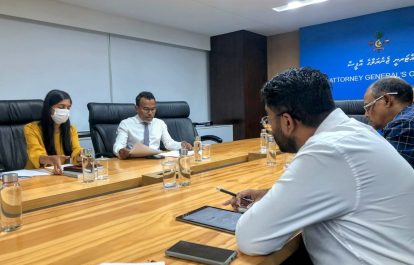 In a statement on September 25, the office of the Maldivian Attorney General said it would propose an amendment to the Evidence Act, in response to concerns raised by media rights organisations regarding provisions within Article 136 of the bill that require journalists to reveal their sources to the court.
Article 136 of the nation's Evidence Act, which was ratified by Maldivian President Ibrahim Mohamed Solih on July 18, lists two exceptions where the court can compel journalists and media outlets to reveal their sources in cases related to "acts of terrorism" and "national security-related matters".
Under the article, the disclosure of a source is mandatory if the court finds no negative impact or significantly less negative impact to the source or others even if the source is revealed and; if the impact of revealing a source does not significantly impact the ability of journalists to find sources of factual information.
The new amendment proposal drafted by the office of the Maldivian Attorney General clarifies the circumstances under which journalists are required to reveal their sources and further defines the terrorism and national security aspects of the bill after concerns were raised by the local media community. The Attorney General said that the proposed amendments were drafted in consultation with the MJA and the Maldives Editors Guild, among others.
In a statement, the MJA however opposed the continued inclusion of 'national security related matters' in the bill and urged the office of the Attorney General to make further changes before the presentation of the proposal in parliament by September 30.
IFJ and MJA had long been advocating against the source–disclosure provision mentioned in the evidence bill.  IFJ's Asia- Pacific Director Jane Worthington had raised the issue during her evaluation mission in the Maldives in August.
MJA said: "The MJA notes that the draft bill formulated by the Attorney General's Office to amend Article 136 of the Evidence Act addresses many of the concerns of journalists. We welcome these changes, and we believe this is a good move by the government. However, we still have serious concerns about the draft bill. The MJA asks the government to remove references to national security from the bill as there is a possibility of misusing the term in the absence of a law defining national security offences in the Maldives."
The IFJ said: "The IFJ welcomes the Maldivian government's proposal to amend Article 136 of the Evidence Act after appropriate consultation with media stakeholders. However, the continued inclusion of a provision requiring journalists to disclose their sources is unacceptable and constitutes a restriction of press freedom. The IFJ calls for further amendments to the draft to ensure that the security and privacy of journalists and their sources are maintained."
Written By

IFJ Asia-Pacific
The IFJ represents more than 600,000 journalists in 140 countries.
For further information contact IFJ Asia-Pacific on +61 2 9333 0946
Find the IFJ on Twitter: @ifjasiapacific
Find the IFJ on Facebook: www.facebook.com/IFJAsiaPacific
Comments