Press Statement
Maldives: IFJ critical of inaction on journalist sexual harassment case
29 Jul, 2020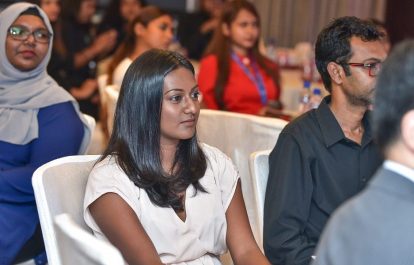 Nearly 17 months since a senior female Maldivian editor was allegedly sexually harassed by an officer in the Maldives presidential communications team, the International Federation of Journalists has voiced its concern at the inaction by the country's government and authorities on the case. The IFJ has taken its concerns to the Maldives President, Ibrahim Mohamed Solih, and reinforced the need for the Maldives to address impunity at all levels – including sexual harassment.
The case relates to the reported sexual harassment of the editor of The Edition, Rae Munavvar, by the communications secretary of the president's office, Hassan Ismail, which allegedly took place at the presidential office in February 2019. According to Munavvar, the communications secretary harassed her and threw her an offer of a training and exclusive access, including on foreign presidential visits if she agreed to spend time with him in a resort or his apartment. Following the incident, The Edition reported the case.
Despite this, nearly a year on and frustrated that the issue had not been taken up for investigation, Munavvar lodged a formal complaint with the President's Office and the Maldives Police on January 21, 2020 and February 4, 2020 respectively.
The IFJ has been informed that despite this, Maldives Police only recently summoned Hassan Ismail on July 12, prompted by outrage after the Edition journalist published a tweet expressing her frustration over the handling of the matter. Maldives police have since advised the case is currently under investigation.
Meanwhile, activists have been protesting at the deficiencies between government assurances and action on the issue of sexual harassment. On July 12, the #JaagaEhNei movement gathered to call for the punishment of the perpetrators of sexual injustices to the fullest extent of the law.
The IFJ said: "Inaction is akin to impunity for crimes against journalists, which is an issue this administration has vowed strongly to address.  Sexual harassment in the media is a serious issue and there is no excuse for due process on this crime – particularly in the halls of power."
Read the letter Maldives President Ibrahim Mohamed Solih here.
Written By

IFJ Asia-Pacific
The IFJ represents more than 600,000 journalists in 140 countries.
For further information contact IFJ Asia-Pacific on +61 2 9333 0946
Find the IFJ on Twitter: @ifjasiapacific
Find the IFJ on Facebook: www.facebook.com/IFJAsiaPacific
Comments