Press Statement
Maldives journalist Ahmed Rilwan still missing
08 Sep, 2014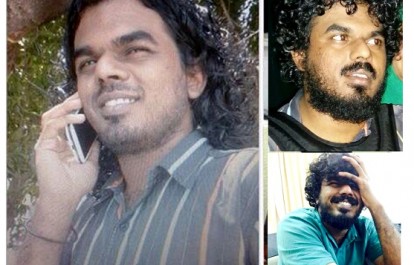 The International Federation of Journalists (IFJ) and the Maldives Journalists Association (MJA) again expressed strong concerns over the slow progress made in the search of missing journalist Ahmed Rilwan Abdulla. Today marks one month since Rilwan was last seen yet the IFJ remains critical of the investigation and the release of information by authorities.
The Minivan News journalist, aged 28, was last sighted boarding the Hulhumalé ferry on August 8 at 12:55am. Evidence gathered by Minivan News suggests Rilwan was abducted, however, Maldives police have not given any information regarding links to an abduction motive.
Rilwan's family has also expressed concern over slow progress in the Maldives police's search. On Thursday, September 4, police released a statement claiming it had questioned 318 individuals, interrogated 111, searched 139 locations in Malé's suburb island of Hulhumalé and searched 267,197.5 square meters of ocean.
Rilwan's brother Moosa Rilwan told Minivan News: "These are just statistics. We want to find him. We want the police to tell us if they have leads, if there is progress. We want to know what the results of these extensive searches are. It's been a month, my family and I fear for his life."
Last week, friends and family presented a petition of 5,000 signatures to the country's parliament pressing for action. The family has offered US$12,945 for any information on Riwlan's whereabouts.
The IFJ, the MJA and the South Asia Media Solidarity Network (SAMSN) last month called on the Maldives government to speed up investigations, deploy all the necessary resources and release information to the public that might assist the investigation and search.
In its joint statement, SAMSN criticised the authorities on the loss of valuable time in the early days of Rilwan's disappearance and called for thorough action.
The IFJ acting director, Jane Worthington, said: "The huge public response to Rilwan's disappearance shows the strong desire for justice and answers, not only by his journalistic colleagues but the public at large. One month on, the demand for answers remains strong and if the figures the police provide are correct, there is vital information that is not being shared with the media that might find the culprits behind his disappearance."
The IFJ is deeply concerned about Rilwan's safety. In the weeks leading up to his disappearance a number of Maldivian journalists received death threats via text messages. Rilwan, although had not personally received any threats, had worked on a number of religiously-sensitive pieces and his family believe his disappearance is work related.
Written By

IFJ Asia-Pacific
The IFJ represents more than 600,000 journalists in 140 countries.
For further information contact IFJ Asia-Pacific on +61 2 9333 0946
Find the IFJ on Twitter: @ifjasiapacific
Find the IFJ on Facebook: www.facebook.com/IFJAsiaPacific
Comments