Press Statement
Maldives: Journalists harassed by police while covering protest
23 May, 2022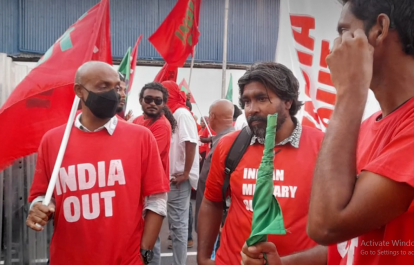 Maldivian police have allegedly harassed journalists at a protest for the 'India Out' campaign on May 18, led by the Maldives' opposition party. The International Federation of Journalists (IFJ) and its affiliate in the Maldives, the Maldives Journalist Association (MJA), condemn the police's actions towards the journalists in the field and urge the government to investigate the case and bring the perpetrators to justice.
According to the MJA and other local media organisations, a police officer named 'Solih' threatened and harassed journalists and media workers during their coverage of an 'India Out' protest held on May 18.
The 'India Out' campaign began in 2020, led by opposition leader and former president Abdulla Yameen of the Progressive Party of Maldives (PPM), against the alleged presence of Indian military personnel in the Maldives.
On April 21, current Maldivian president Ibrahim Solih issued a decree, backed by the country's National Security Council, banning the campaign, citing the movement's threats to the "long standing bilateral relations between Maldives and India." However, protests have continued.
Several Maldivian media and media rights organisation have criticised the recent attacks on journalists at 'India Out' protests. Maldives Media Council (MMC) condemned the reported harassment from police and called for investigation into the incident. The MJA and Transparency Maldives urged the authorities to protect the right to freedom of expression enshrined in the Maldives' constitution, in response to "concerning police conduct".
The IFJ's South Asia Press Freedom Report 2021-22, recorded just two media rights violations in the Maldives from May 1, 2021 to April 30, 2022, but noted a legacy of interference in media regulators and a history of impunity for crimes against journalists.
IFJ said: "Harassment and threats to journalists in the field contravene the right to freedom of expression enshrined in the Maldives' constitution. Journalists must be allowed to operate in the field without fear of attack or persecution. The IFJ urges the Maldivian government to act swiftly to investigate the case and arrest the perpetrators."
Written By

IFJ Asia-Pacific
The IFJ represents more than 600,000 journalists in 140 countries.
For further information contact IFJ Asia-Pacific on +61 2 9333 0946
Find the IFJ on Twitter: @ifjasiapacific
Find the IFJ on Facebook: www.facebook.com/IFJAsiaPacific
Comments