Press Statement
Maldives: Maldives journalist representative association revived
08 Sep, 2020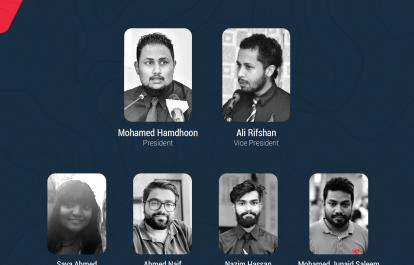 An extraordinary general meeting of journalists in the Maldives elected a revived Maldives Journalist Association (MJA) executive committee on September 5. The International Federation of Journalists (IFJ) welcomes the return of the association and calls on journalists in the Maldives to work together to fight for their professional rights.
The MJA general meeting that was attended by 130 journalists via virtual platform Zoom and elected a six-member executive committee under the leadership of Mohamed Hamdhoon.
Founded in 2009, the MJA held an important place among the Maldivian media fraternity in organizing journalists, fighting for their professional rights, facilitating trainings and ensuring a safe and free space for their working environment.  However, following a split in its membership, it collapsed in 2014. The IFJ and its South Asia Media Solidarity Network (SAMSN) has continuously advocated for the revival of a collective voice for journalists in the Maldives.
The intervening period for journalists in the Maldives was both challenging and deadly for media workers in the country, with the disappearance of influential blogger Ahmed Rilwan Abdulla and brutal stabbing of blogger Yameen Rasheed.
The Maldives' media – in terms of both ownership and content – was long kept under the iron fist of the country's founding president Maumoon Abdul Gayoom. Apart from the brief democratic window under Mohamed Nasheed (2008 to 2012), there was once again a significant decline under Abdulla Yameen (2013 to 2018). The country's election of Ibrahim Mohamed Solih in 2018 marked the beginning of a shift for media freedom and the fight against impunity for journalist attacks.
A three-member transitional committee comprising of journalists Zaheena Rasheed, Hussain Hassan and Mohamed Muzayyin Nazim arranged the extraordinary general meeting.
According to MJA new president, Mohamed Hamdhoon, the MJA's immediate focus was to amend some of 'undemocratic and irrelevant' provisions of the MJA's constitution, while its long-term goal was to support journalists' professional growth including training and advocacy on media rights.
Political division among journalists, use of draconian law to suppress the independent voices including that of media, self-censorship, and impunity on crime against journalists are some of the key issues that Maldives media fraternity is facing today.
The IFJ said: "The IFJ welcomes the return of journalist solidarity and advocacy for journalists' rights, safety and working conditions in the Maldives with the revived MJA."
Written By

IFJ Asia-Pacific
The IFJ represents more than 600,000 journalists in 140 countries.
For further information contact IFJ Asia-Pacific on +61 2 9333 0946
Find the IFJ on Twitter: @ifjasiapacific
Find the IFJ on Facebook: www.facebook.com/IFJAsiaPacific
Comments