Press Statement
Maldives: Mihaaru journalists harassed at office
06 Jun, 2022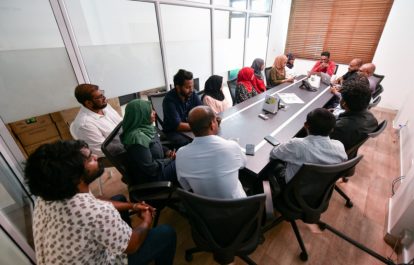 A group of people forcibly entered the office of Maldivian news outlet Mihaaru and threatened journalists and media workers on May 29, accusing the news outlet of publishing a fabricated news report. The International Federation of Journalists (IFJ) and its affiliate, the Maldives Journalists Association (MJA), condemn the attack and urge the Maldivian police to expedite the investigation.
On May 29, a 'mob' entered the Mihaaru office located in the Maldivian capital Malé, expressing dissatisfaction with one of the outlet's recent news articles. The group harassed and threatened the journalists and media staff present in the office.
Mihaaru's managing editor, Ahmed Hamdhoon, said the group was targeting a single reporter, who was not present at the office at the time.
Following the incident, the outlet issued a statement on June 1 condemning the intimidation and reported the case to police. "Mihaaru is saddened by the baseless allegations being made against its reporters, and that it was putting the safety of reporters at risk", the statement reads.
The unidentified assailants continued to harass the news outlet on social media, citing misinformation within several Mihaaru articles. The outlet statedthat the online harassment was targeted at defaming the newspaper.
The MJA called on police to investigate the case. Police confirmed they had received information regarding the incident and have a commenced an investigation.
The MJA said: "An attack on journalists and media-persons on any pretention is not acceptable. We urge the police to take necessary actions."
The IFJ said: "The harassment of journalists and media workers within the Mihaaru office is indicative of the systemic targeting of the media in the Maldives. The IFJ urges the Maldivian government to conduct a swift and impartial investigation into the incident and bring perpetrators to justice."
Written By

IFJ Asia-Pacific
The IFJ represents more than 600,000 journalists in 140 countries.
For further information contact IFJ Asia-Pacific on +61 2 9333 0946
Find the IFJ on Twitter: @ifjasiapacific
Find the IFJ on Facebook: www.facebook.com/IFJAsiaPacific
Comments