Press Statement
Maldives : MJA calls on Government to implement 6 measures to safeguard journalists in the Maldives
02 Nov, 2022
On the 'International Day to End Impunity for Crimes Against Journalists', Maldives Journalists Association calls on the Government to implement the following measures to safeguard journalists in the Maldives .
1. Publicly, unequivocally, and systematically condemn violence and attacks
Government, political parties, and media regulatory bodies must respond to any violence against journalists, including sexual and gender-based discrimination and violence, by making unambiguous public statements that such violations will not be tolerated and perpetrators will be held accountable.
2. Impartial, prompt, thorough, independent, and effective investigations
Government and law enforcement authorities must ensure accountability for all violence, threats, and attacks against journalists through impartial, prompt, thorough, independent, and effective investigations. Such investigations should recognize and take seriously gender-specific attacks on women journalists.
3. Prosecute perpetrators
Government, law enforcement authorities, and the justice system must work together to bring perpetrators of crimes against journalists to justice. This includes those who command, conspire to commit, aid, and abet, or cover up such crimes.
4. Access to appropriate remedies
Government must ensure that appropriate remedies are available to victims of crimes against journalists and their families. This can include non-judicial remedies such as compensation, socio-economic support, and long-term psychosocial healthcare.
5. Protect rights online
Government must ensure that laws and rights that provide protection to journalists offline are applied equally online.
6. Advance safety of journalists
Media organizations and media regulatory bodies must advance the safety of journalists by providing trainings on safety, risk awareness, digital security, and self- protection. Media organizations must also provide protection against workplace harassment and discrimination for women journalists.
MJA acknowledges the effort by the Government over the past few years to investigate Minivan News journalist Rilwan Abdullah's death and bring forth charges.However, the very fact that multiple accused in Rilwan's case have not been brought to justice is an indication that journalists are not safeguarded within the society. Likewise, MJA believes that the Government's failure to conduct proper investigations and bring blogger Yameen Rasheed's murderers to justice gives leeway to such crimes .
MJA's President Ali Rifshan stated that "journalists in the Maldives continue to face harassment and threats. There is no focus on safeguarding journalists in the Maldives. There is no sense of justice for crimes against journalists in this country; no journalist here feels safe in their field. The Maldives has a long way to go to safeguard journalists. MJA calls on the Government to heed our appeal and work together to implement these measures to safeguard journalists in the Maldives".
Written By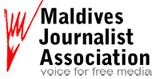 Maldives Journalist Association
Maldives Journalists Association Male, Maldives Telephone: +960 778 56 69 | +960 777 10 60 | +960 777 64 60
Comments