Press Statement
Maldives: MJA launches report on impunity for crimes against journalists
22 Aug, 2021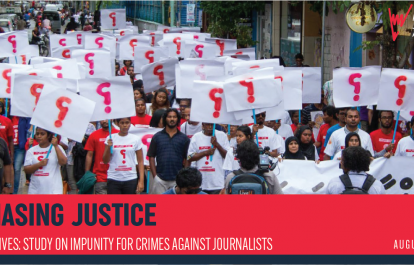 The Maldives Journalists Association (MJA), the Maldives affiliate of the International Federation of Journalists (IFJ) launches its report entitled 'Chasing Justice on impunity for crimes against journalists' in Maldives on August 22.
The report, prepared jointly with the IFJ, provides a broad picture of the violence faced by Maldivian journalists. The report describes the types of violence and threats journalists encounter along with the nature and frequency of different types of violations.
The first chapter of the report looks at the political history of the Maldives and the impact of autocratic governments on freedom of expression and press freedom. The chapter highlights fleeting democracy, crushing dissent and snapshots of documented cases of violence against journalists and media outlets including attack and forced closure of media outlets, intimidation and harassment, murder, arbitrary detention and arrest, misuse of draconian law and other offences against media freedom in the Maldives from 2012 to 2018.
The second chapter looks at crimes against journalists and the efforts of the incumbent government to fight against impunity. Further, it highlights how Islamist ideologies that encourage religion-based violence are undermining the rule of law and delivery of justice on crime against journalists in the Maldives.
The third chapter presents the findings of a perception survey that captures what journalists think about press freedom, press safety and the issue of impunity. The chapter also includes insights captured from focus group discussions with journalists and editors of various media outlets about their personal experience with violence and gender-specific threats, both online and offline, to better understand the many and wide-ranging threats.
The MJA president Mohamed Hamdhoon said: "The report documents status of media rights violation and situation of impunity on crime against journalists along with the perception of the journalists on the issues, this can serve as a baseline for the Maldivian government to start its works towards protecting freedom of expression and the press and enhancing the safety of journalists in Maldives."
The IFJ said: "The report suggests that there are many areas where the government of the Maldives can work to address the issues of media rights violations and impunity on crime against journalists. The IFJ urges the Maldivian government to come up with a plan of action to address the issues around freedom of expression, media rights violation and impunity on crime against journalists and looks forward to assisting MJA on these issues in order to strengthen the Maldivian media."
Read the full report here.
Written By

IFJ Asia-Pacific
The IFJ represents more than 600,000 journalists in 140 countries.
For further information contact IFJ Asia-Pacific on +61 2 9333 0946
Find the IFJ on Twitter: @ifjasiapacific
Find the IFJ on Facebook: www.facebook.com/IFJAsiaPacific
Comments