Press Statement
Maldives: Police assault and detain journalist as attacks to press freedom rise
23 Mar, 2023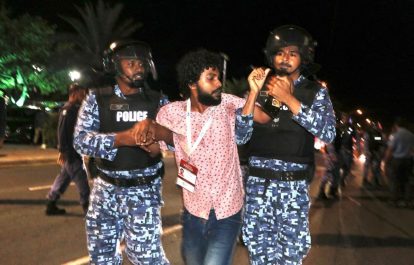 In an escalating trend of attacks and threats towards media workers in the Maldives, journalist Hussain Juman was assaulted and detained by police while covering a political rally in Malé on March 16. The International Federation of Journalists (IFJ) and its affiliate, the Maldives Journalists Association (MJA), condemn the attack and call on authorities to protect the safety and security of working journalists ahead of the Maldivian Presidential election.
Juman, a reporter for local digital news outlet Avas, was arrested while covering a demonstration by supporters of the opposition Progressive Party of Maldives, calling for the release of party leader and former president Abdulla Yameen, who was jailed on money laundering and corruption charges on December 25.
According to a video posted to social media, Juman, who was wearing a press pass, was thrown to the ground by police. The journalist's lawyer said he suffered injuries, to his shoulder, chest and back, and his mobile phone was damaged.
A statement by Maldives police said the journalist was arrested after he allegedly 'assaulted' a police officer attempting to take a protestor into custody. Juman was held in a cell with 12 others before being released without charge on March 17, after appearing at the Maldives Criminal Court. Police are still reportedly investigating the incident with an internal inquiry to determine whether Juman will be charged.
In the lead-up to the Maldivian presidential election on September 9, the IFJ has documented an increasing number of media rights violations against local media workers. Journalists Hassan Shaheed and Ahmed Misbaah were assaulted by police on February 6 while reporting on a protest against Yameen's sentencing near the People's Majlis (Parliament House) in Malé. On March 21, Hussain Fiyaz Moosa, chief editor of newspaper Adhadhu, received a death threat from an unidentified number, hours after the paper published an article concerning religious extremists and gang activity.
 The IFJ has also raised concern this month at a proposed amendment to the nation's General Elections Act on March 13, which could restrict foreign and freelance journalists' ability to monitor election processes. The amendment would alter Sections 41(a) and 41(b) of the legislation and would require any reporter performing election monitoring work to work for a registered media outlet or broadcasting service.
The IFJ and MJA met with the Maldivian police commissioner Mohamed Hameed in August 2022 during an IFJ mission in the country. In the meeting, the issue of police intimidation of media workers was raised and it was agreed that the police and journalists would meet to discuss better understanding between journalists and police as to performing their professional duties. The IFJ reiterated that journalists should not be targeted by police while covering public events, including protests.
MJA Secretary General, Naif Ahmed, said: "The union is deeply concerned that journalists covering the protests are constantly being harassed and tortured by the Maldives Police Service. The union calls on the government of Maldives to ensure adequate security for journalists covering the protests and investigate such cases of police brutality against journalists in an adequate manner. We are also concerned about the significant increase in press freedom violations in Maldives this year. As presidential elections are around the corner so far this year, 8 cases of violations have been reported. Last year alone there were only 8 cases."
The IFJ said: "The IFJ condemns the assault and detention of journalist Hussain Juman by the Maldives police. It is deeply concerning to see an increasing trend of attacks and threats against media workers in the Maldives, and we urge the government and local authorities to take immediate action to address this issue and ensure the safety and security of working journalists. As the Maldivian Presidential election approaches, it is crucial to prioritise the protection of press freedom and the rights of journalists to ensure the functioning of democracy."
Written By

IFJ Asia-Pacific
The IFJ represents more than 600,000 journalists in 140 countries.
For further information contact IFJ Asia-Pacific on +61 2 9333 0946
Find the IFJ on Twitter: @ifjasiapacific
Find the IFJ on Facebook: www.facebook.com/IFJAsiaPacific
Comments