Press Statement
Maldives: President ratifies controversial Evidence Act
21 Jul, 2022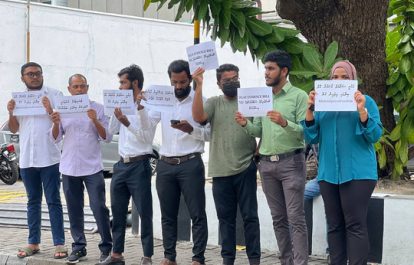 Despite protests by media rights organisations, Maldives President Ibrahim Mohamed Solih ratified amendments to the nation's Evidence Act on 18 July, allowing courts to demand the disclosure of journalists' sources. The International Federation of Journalists (IFJ) and its affiliate, the Maldives Journalists Association (MJA), condemn the act's infringement on press freedom and urge the Maldivian parliament to consult with media organisations to amend the act.
While the President's office states that the Evidence Act (Act No. 11/2022) concerns evidence in civil and criminal cases, Article 136 of the bill lists exceptions where the court can compel journalists and media outlets to reveal their sources in cases related to "acts of terrorism" and "national security related matters".
The two exceptions are; if the court decides that there is no negative impact or significantly less negative impact to the source or others even if the source is revealed and; if the impact of revealing a source does not significantly impact the ability of journalists to find sources of factual information.
According to the MJA and Editors Guild, ambiguous criteria and a lack of definition in the exceptions give courts absolute power and poses serious threats to journalists' rights. Under the Evidence Act, journalists who refuse to disclose a source after being compelled by the court can be found in contempt and face up to three months in jail or a fine.
The provisions could have implications for journalists obtaining sources due to fear of retaliation and their identity being exposed.
Despite objections from local and international media rights organisations, the Maldives parliament passed the bill on June 30, 2022. In July 2022, members of the MJA and the Editors Guild protested in front of the parliament building stating that the law puts press freedom in the Maldives at risk.
The provision contradicts the 'freedoms of the media' enshrined in Article 28 of the Maldivian constitution and the right to freedom of expression protected under Article 19 of the International Covenant on Civil and Political rights.
If the Evidence Act is not amended it will be implemented after six months.
MJA said: "The government needs to understand that provisions like these don't necessarily need to be enforced in a court of law or a journalist does not need to be jailed for it to have an impact on press freedom. Just the fear of being exposed –especially sources used by reporters to uncover corruption and abuse of power –is enough for these sources of information to dry up. Without any doubts, this will have a chilling effect on freedom of expression."
The IFJ said: "The ratification of the Evidence Act dangerously undermines press freedom and the protection of journalists and their sources in the Maldives. The IFJ calls on the Maldivian government to urgently collaborate with media rights organisations and urgently amend the bill before its implementation."
Written By

IFJ Asia-Pacific
The IFJ represents more than 600,000 journalists in 140 countries.
For further information contact IFJ Asia-Pacific on +61 2 9333 0946
Find the IFJ on Twitter: @ifjasiapacific
Find the IFJ on Facebook: www.facebook.com/IFJAsiaPacific
Comments