Press Statement
Maldives: Press Release
25 Jun, 2021
Regarding the decision by the Ministry of Gender, Family and Social Services to fine Avas Online and issue warnings against One Online, Vaguthu and Adhadhu, over the alleged violation of child rights in their coverage of the murder of a 13-year-old boy in Male:
Maldives Journalist Association strongly condemns the decision by a government ministry to use the Child Rights Protection Act (Law 19/2009) to arbitrarily act as a media regulator by regulating the content of media outlets and taking punitive action against media outlets.
Maldivian law clearly stipulates the mandate for media regulation and which institutions have the power to regulate the media. Despite these provisions enshrined in law, without any discussions with lawful regulatory bodies, the ministry unilaterally took action against media outlets on Thursday (June 24). MJA believes that the m ministry's decision will have an adverse impact on press freedom in the country.
The media outlets that were fined or received written warnings have informed the Maldives Journalist Association that the ministry had not been in touch with the outlets ahead of taking action against them. As such, the media outlets were deprived of any opportunity to respond to any alleged violations, before the government stepped in to take action against them.
MJA deplores the government's use of its powers to directly and unilaterally act as a media regulator, without following due process , including launching an investigation and offering media outlets the opportunity to respond to the complaints against them.
This is contrary to the press freedom values promoted by this association and is a clear violation of internationally established best practices relating to media regulation.
MJA believes that the regulation of media outlets and the content carried by such outlets, especially in relation to media ethics, should be reserved for the bodies vested with the lawful mandate to regulate media outlets.
MJA denounces any attempt by the government or other state actors to take action against media outlets. Maldivian journalists have, overtime, experienced the bitter consequences when the government seeks to regulate the media and the adverse effect this has on press freedom is quite clear.
MJA takes this opportunity to call on the Maldives government to repeal the actions taken against the media outlets and to stop any and all efforts, whether direct or indirect, to influence the media regulatory processes established in  law·
Written By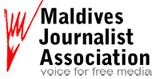 Maldives Journalist Association
Maldives Journalists Association Male, Maldives Telephone: +960 778 56 69 | +960 777 10 60 | +960 777 64 60
Comments