Press Statement
Maldives: Restrictions on the media increase
01 Aug, 2016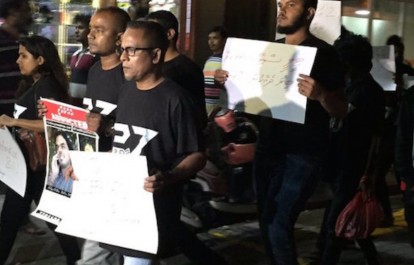 The International Federation of Journalists (IFJ) joins its affiliate the Maldives Journalists Association (MJA) in expressing serious concerns over a series of press freedom violations and restrictions to journalists' rights in the Maldives in recent weeks. The IFJ urges the Maldives government to refrain from the activities undermining the press freedom and journalists' rights.
On July 27, two journalists, Hussain Fiyaz Moosa, chief operating officer of the opposition-aligned Raajje TV, and Ahmed Azif, assistant editor of Sun Online, were arrested as opposition supporters attempted to perform a prayer inside an Islamic centre in Malé. Police officers in plainclothes forcibly dispersed the crowd and arrested opposition leaders after Isha (night) prayers. They were released after being held at the police headquarters for about four hours. Fiyaz said he was accused of planning a political activity and of taking photographs inside the mosque. Azif was accused of obstructing police duty.
On same day, riot police officers blocked a silent protest staged by journalists against the controversial, proposed defamation bill currently before parliament. Wearing T-shirts with the slogan, 'In defence of 27,' referring to the article of the constitution that guarantees freedom of expression, a group of about 20 journalists from several media outlets planned to demonstrate but the area was cordoned off and journalists were blocked.
While on July 29, Shammoon Jaleel, a popular opposition activist, was arrested on suspicion of using social media to "foment unrest in society and incite hatred among the public towards the security forces." The criminal court also authorised the police to confiscate his phone to extract all his conversations, text messages, and other interactions and extended his remand detention for 15 days.
The IFJ said: "The IFJ expresses deep concerns over the series of violations of the media's rights as well as constitutional rights. The IFJ believes the incidents are results of Maldives government's growing intolerance against opposition voices and its attempts to control media freedom. We urge the Maldives government to adhere by the standard practices of press freedom and all journalists to report freely."
Photo credit: MaldivesIndependent.com
Written By

IFJ Asia-Pacific
The IFJ represents more than 600,000 journalists in 140 countries.
For further information contact IFJ Asia-Pacific on +61 2 9333 0946
Find the IFJ on Twitter: @ifjasiapacific
Find the IFJ on Facebook: www.facebook.com/IFJAsiaPacific
Comments