Press Statement
Maldives: Two journalists assaulted by police during protest coverage
13 Feb, 2023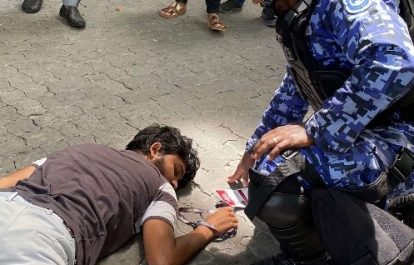 Maldivian journalists Hassan Shaheed and Ahmed Misbaah were assaulted by police on February 6 while reporting on a protest against the sentencing of former president, Abdulla Yameen, near the People's Majlis (Parliament House) in Malé. The International Federation of Journalists (IFJ) joins its affiliate, the Maldives Journalists Association (MJA), in condemning the police's use of violence towards journalists and urges authorities to swiftly investigate the case.
According to the MJA, Shaheed, a videographer and reporter for Channel 13, and Misbaah, a Channel 13 photojournalist, were pressed down, pepper-sprayed and struck by police shields while reporting on the Progressive Party of the Maldives (PPM) and People's National Congress (PNC) protest ahead of an address by Maldivian President Ibrahim Mohamed Solih. Shaheed was admitted to hospital for his injuries and taken to Sri Lanka for further treatment.
The protest was led by supporters of the former Maldivian president, Abdulla Yameen, calling for his release from prison after he was jailed for 11 years on money laundering charges on December 25, 2022. The demonstrators rallied across Malé and Addu City.
Media and press freedom organisations, including the Maldives Broadcasting Commission, condemned the aggressive behaviour of police towards media workers reporting at the rally and called for authorities to ensure the safety and protection of all journalists.
The IFJ has documented similar incidents of police harassment and violence against journalists at political protests in the Maldives in the last year. In May 2022, Maldivian police threatened and harassed journalists at a protest for the 'India Out' campaign on May 18, led by Yameen and the PPM against the alleged presence of Indian military personnel in the Maldives.
During an evaluation mission in the Maldives, the IFJ noted a critical need for the establishment of an industrial legislative framework for media and other workers in the country to protect labour rights and the need for a revised code of ethics in line with international standards.
The MJA said: "We are concerned that two Channel 13 journalists were injured while covering the protest. We strongly urge the police to protect journalists when dispersing such demonstrations."
IFJ said: "As the presidential elections draw closer in the Maldives, harassment and violence towards media workers in the field sets a worrying precedent. All journalists must be allowed to report without fearing for their safety and security. The IFJ urges the Maldivian government to swiftly investigate the incident and ensure that press freedom and uphold the rights of journalists."
Written By

IFJ Asia-Pacific
The IFJ represents more than 600,000 journalists in 140 countries.
For further information contact IFJ Asia-Pacific on +61 2 9333 0946
Find the IFJ on Twitter: @ifjasiapacific
Find the IFJ on Facebook: www.facebook.com/IFJAsiaPacific
Comments