India
Mass Layoffs at ABP
11 Feb, 2017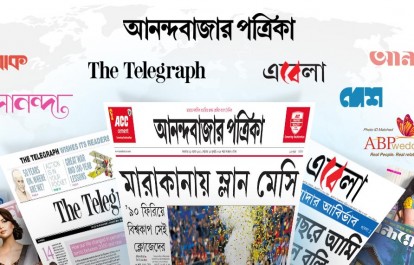 Manisha Pande examines the alarming trend of newsgathering being replaced with news aggregation by the desk, and the accompanying job losses especially among reporters.
Gautam Sarkar (47) did not know his job was on the chopping block when his editor called him at around 12 pm on February 2. "I had filed a Budget copy and was planning to list a story for the day. When my editor called me to give me the news, my first reaction was to say, 'please, give me time to complete my story.' He allowed me to do so," he said.
Sarkar has worked with The Telegraph for 17 years. He joined its Jharkhand bureau in 2001. When the paper started its Patna edition in 2010, he shifted base to Bhagalpur in Bihar to report from there. Though he worked as a fulltime correspondent with The Telegraph, his contract classified him as a "contributor". His monthly package at the time of his firing came to Rs 23,000 (plus perks). He will receive four months of cost to company, or CTC, as severance and will not serve a notice period.
As offers made to those being laid off, it's a generous one. However, what is happening to reporters like Sarkar signals a shift in English print journalism's nature and practice.
Downsizing or rightsizing?
The news of lay-offs at ABP Group first started trickling in on social media last week, but the extent and number of job losses still remain in the realm of speculation.
Speaking to Newslaundry, ABP Chief Executive Officer Dipankar Das Purkayastha placed the total figure at close to 300 employees across the group's print publications. "The [retrenchment] exercise is still going on and the number may touch 300," he said. This figure refers to all of ABP's print publications including The Telegraph, Anand Bazar Patrika and Ebelaand doesn't factor in stringers associated with the group.
Purkayastha suggested that the decision to review the group's staff strength across its print organisations was taken back in September 2016 (about three months after Arup Sarkar took over as group chief editor). He said while demonetisation has impacted print revenues, the lay-offs are not a direct result of it. "We want to move towards being a leaner organisation and work more efficiently. Where ever we found duplication, we removed it," he said, adding that those laid off were offered generous severances.
Neither Purkayastha nor ABP Group Associate Vice President (Human Resources) Shiuli Biswas would give us a break-up of the lay-offs so it is difficult to gauge the exact number of journalists fired from each bureau of The Telegraph. However, speaking to employees across its editions in Kolkata, Ranchi, Jharkhand, Guwahati, Patna and New Delhi, the general pattern seems to be of cutting down on district correspondents, or 'contributors' like Sarkar.
For example, in Bihar, reporters covering eastern Bihar, districts of Gaya, Munger, Bhagalpur, Muzaffarpur, Motihari and Chhapra were taken off the payrolls. One photojournalist, Deepak Kumar, who had been working for Patna edition for about 12 years was asked to leave, along with four other photojournalists who worked as stringers. Kumar was to retire in June 2018. His annual salary came to Rs 5 lakh. "I will be receiving CTC of nine months as severance but now I will have to start looking for a job before retirement," said Kumar.
From the Guwahati edition of The Telegraph, 11 people were laid off. This included one reporter each from Nagaland and Tripura, four reporters from Guwahati and three reporters from the Jorhat bureau. Two "retainers"– or stringers – each were laid-off from the districts of Kokrajhar and Dhubri.
In the Jharkhand, reporters from Ranchi and Jamshedpur were asked to put in their papers.
From The Telegraph's national affairs bureau, outstation correspondents covering states like Chhattisgarh, Maharashtra, Kerala, Tamil Nadu, Rajasthan and Gujarat were laid off.  In the Kolkata edition, too, it is the district correspondents and photojournalists that were hit the hardest, according to most accounts. "I think they have all together done away with district correspondents," said one ex-employee with The Telegraph.
No more ears to the ground
Industry watchers in Kolkata say the current lay-offs are more course correction after a particularly indulgent reign under former Chief Editor Aveek Sarkar. "The Telegraph has always been a very flabby organisation, it hired four reporters for the work of one and in some sense this was inevitable," said a journalist on condition of anonymity.
The fact that TT is able to come out with a newspaper, albeit with reduced pages, after the mass lay-offs perhaps hints at a certain redundancy in terms of editorial roles. But what is worth noting is that the lay-off has struck at newsgathering from the grassroots.
If news' essential role is to keep readers informed with stories from across the length and breath of the country, then cutting down on district correspondents effectively dents that aim. These are reporters that usually have great networks and immense knowledge base in terms of a district's politics, social and economic indicators and so on simply by virtue of having invested years in reporting from the area.
Put simply, Sarkar's 17 years of experience in Bihar can not be replaced by a sub editor who relies upon wire updates and whose chief skill is the ability to rewrite and conjure headlines to garner clicks.
Losing reporters from India's towns and districts makes for an insular newsroom, one that is cut-off from a vast majority of the disenfranchised and the rural poor. It's a loss of perspective that is hard-earned. "Most reporting is done from the desktop and less and less on the ground," noted The Conversation, in an analysis of why Western media wasn't able to predict Donald Trump's rise to the American presidency. "This has meant the antennae picking up and understanding social change are no longer there. Easy talk has been too often prioritised over news gathering because it's cheaper – but not necessarily well informed."
A systematic shift away from ground reports has particularly daunting ramifications for India with its diversity of languages, cultures and political complexities that are often difficult to interpret for those unfamiliar with a region.
Casualties of a digital future
The other set of lay-offs that made news were those at the Hindustan Times, which were attributed to the company looking at a digital future. No such announcements have been made in ABP for the time being. "We haven't been told of one new thing or strategy that we will be adopting in terms of the website or digital," said a reporter on condition of anonymity.
One of the senior editors working with The Telegraph says it has become tough to come out with a paper given its reduced staff strength. Another pointed at the general sense of insecurity that has gripped the journalist community in the east: "Journalism was never a good profession in terms of job security or money. This [lay-off] has made it worse."
There is, however, a sense of resignation in the face of news media's changing landscape, which will in all likelihood hit the English newspaper segment the fastest and hardest.
Sarkar, for example, does not see this lay-off as a verdict on his journalistic competence but accepts that his skill as a print journalist may no longer be of use in the English newspaper industry. "I have created a lot of hungama [stir] with my stories in Bihar. But now the English language reader is smart, has smart devices and does not have the patience to turn pages. Newspapers are not growing as fast as the web medium and we are the causalities," he said, offering an explanation for the mass retrenchments at ABP.
According to media agency Zenith, print advertising will grow at seven per cent in 2017, as opposed to digital's 30 per cent. "The revenue model that sustained newspapers is simply crumbling, with classifieds drying and advertisers not willing to pay absorbent prices for jacket ads when they can reach the same target audience via digital news outlets for much cheaper rates. It's only going to get bad with may be even more than 1,000 print journalists losing their jobs this year," said an editor based in New Delhi.
If the job losses in the coming time will mean losing out on news gatherers to make way for news aggregators, then clearly English newspapers and their readers will lose more than just some extra journalists.
The author can be contacted at [email protected] and on Twitter@MnshaP. This piece was first published in Newslaundry.com. 
Written By
Comments