Press Statement
Mastermind in journalist murder sentenced to life
28 Apr, 2015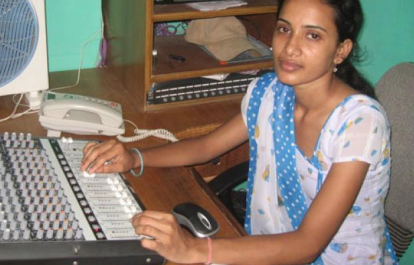 The International Federation of Journalists (IFJ) joins its affiliate the Federation of Nepali Journalists (FNJ) and the Nepal Press Union (NPU) in welcoming the sentencing of a mastermind in the brutal murder of a journalist by the District Court Dhanausha, in south-eastern Nepal on April 23.
Uma Singh was hacked to death on January 11, 2009 by a gang of 15 men in her home in Janakpur. She was seriously wounded in the attack and taken to a local hospital by motorcycle. However she died within an hour from her injuries. She was taken to Kathmandu for treatment, but later died from her injuries. Uma, who was aged in her mid-20s when she was murdered, worked as a correspondent for the daily Janakpur Today and Today FM, a local radio station.
In 2011, Lalita Singh and Nemlal Paswan were convicted of Uma's murder and sentenced to life in prison. Lalita Singh, sister-in-law of Uma (wife of Uma's brother who disappeared in 2007 along with her father), was one of the key conspirators of the murder. Nemlal Paswan was a known criminal in the province and several arrest warrants at the time of the murder against him.
On Wednesday, April 22, Judge Krishna Bahadur Thapa sentenced Umesh Yadav to life in prison for his role as the mastermind in Uma's murder. Swamiji, Yadav's alias, evaded arrest for a number of years following the murder, believed to have gone into India in hiding. He was a known criminal and his telephone calls with Lalita Singh prior to and following the murder strongly implicated both in the murder.
IFJ Asia Pacific acting director, Jane Worthington said: "We welcome the conviction of Umesh Yadav brining the case of Uma Singh's murder to a close. We applaud the local authorities for continuing to fight for justice for Uma and ensure that the perpetrators and mastermind are brought to justice."
The IFJ calls on the Nepali government to ensure this case marks a shift in action for crimes against journalists and to work to bring perpetrators to justice swiftly.
Read the IFJ capsule report following a fact-finding mission to investigation Uma Singh's murder in 2009 here.
Written By

IFJ Asia-Pacific
The IFJ represents more than 600,000 journalists in 140 countries.
For further information contact IFJ Asia-Pacific on +61 2 9333 0946
Find the IFJ on Twitter: @ifjasiapacific
Find the IFJ on Facebook: www.facebook.com/IFJAsiaPacific
Comments